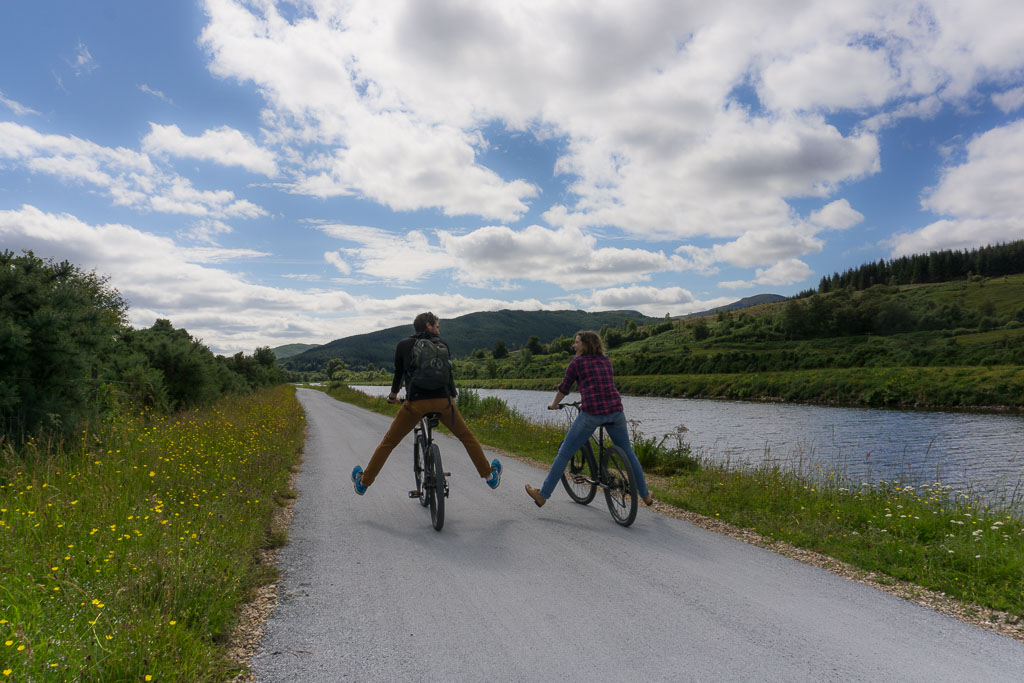 We had a lovely day of sunshine (which have been a bit few and far between here!) so headed out to explore and decided to hire some bikes and go for a ride heading towards Loch Lochy.
It was a beautiful day, we rode along the Great Glen Way, which was following the Caledonian Canal towards Loch Lochy and Fort Augustus. It was very easy riding along the canal. Nice and fairly flat, with beautiful scenery along the way.
After getting to Gairlochy, we suddenly had to ride up an extremely steep hill (a nasty surprise after the pleasant ride along the canal!) however was so worth it. There were incredible views across the loch with the mountains towering in the background. Little bit scary riding along here though – edge of a mountain, riding along a one lane road where there were lots of trucks and buses!! A little nervewracking for me!!
We ended up down on the shore of Loch Lochy to enjoy our lunch. It was a beautiful picnic spot amongst the wildflowers. Incredibly peaceful overlooking the enormous loch.
This area has some fascinating history with the Commandos, the elite green beret wearing soldiers of WWII, training grounds being close to Loch Lochy. They even used Loch Lochy for part of the preparation for the beach landings at Normandy and we came across remains of the training equipment on our ride, which was pretty cool.
A very fun day riding and exploring the countryside around Fort William. Loch Lochy was a very peaceful, beautiful lake and a lovely place to spend an afternoon!
Would love to hear from you so leave us a comment below, send us an email or follow us on Instagram!