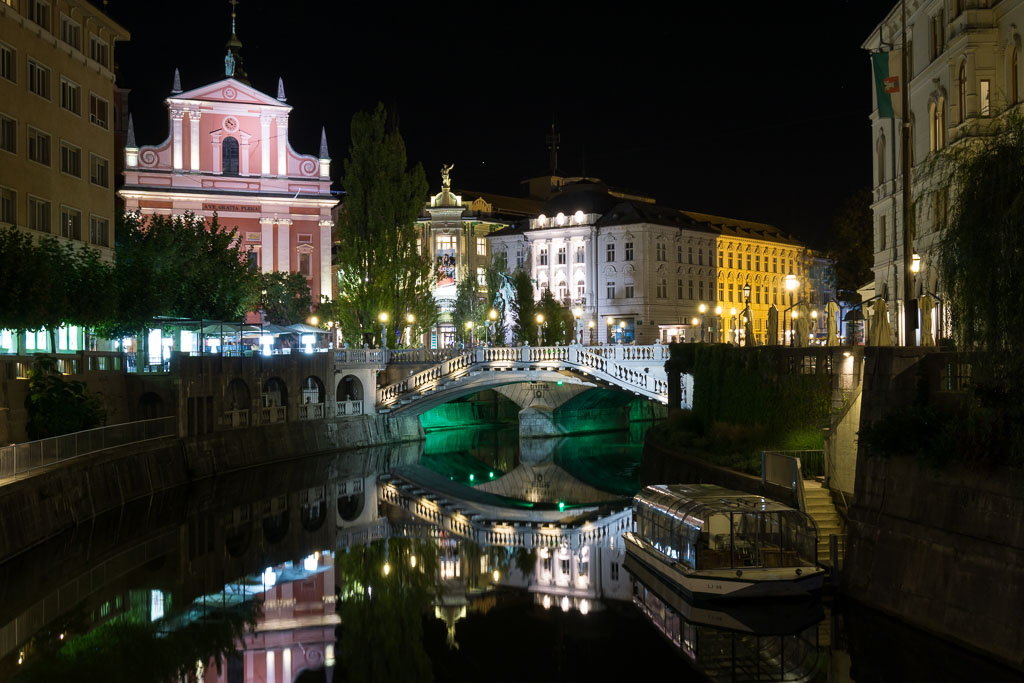 If you talked to me at all before we came away, you probably got to hear about Slovenia. I saw a picture while doing some travel research and quickly became fairly obsessed with the country.
It was the absolute top of my must-visit list for while we were over here and I had pretty high expectations of the country and I must say it completely surpassed them. Slovenia is amazing!!!
Ljubljana is the capital of Slovenia and is one of the smallest capital cities in Europe (a population of only 283,000). It's also been named the European Green Capital for 2016 (Yes already!) and it's clear to see why. It's spotless and they are incredibly proud of their drinking water (as they should be, it tastes so good!) and have made it available everywhere – over 31 water fountains throughout the city! They even have their own app for it!
They have also banned cars in the centre of Ljubljana, which makes it a very relaxing place to wander and have a look around.
The green Ljuljanica River runs through the old town and it's definitely a city based along the river. Cafes, bars and restaurants line either side and this was a very cool place to wander, relax and have a drink and watch the world go by.
These aren't touristy though, we felt like often we were the only visitors there and were surrounded by the locals also enjoying the sun and the ambience of the river area and meandering alleyways.
Picturesque bridges criss cross over this river, each with their own unique look and story. A couple of our favourites were:
The Triple Bridge ("Tromostovje") – This used to be a single bridge which got too busy when they still allowed traffic into the Old Town but instead of destroying a perfectly good bridge, they built two new ones on either side. It leads into the Prešeren Square, one the main squares of the city with a very cool pink coloured Fransiscan Church at the end. (The cover photo shows it off!)
The Dragon's Bridge – Dragons are the symbol of Ljubljana (which is pretty cool all by itself!) and this bridge has some pretty awesome dragon sculptures on it!
We explored the Ljubljana castle which sits perched on a hill overlooking the city and has fantastic views over the city. There was also some really good exhibitions which provided a bit of history of not only the castle but the town as well.
Overall, we found Ljubljana to be a very relaxed city, was very family friendly and no one really seemed in a rush. It was a great place to sit down, grab a coffee or a wine and relax. However it is by no means a sleepy city – even in the two days when we were there, there seemed to be heaps on. (They love their festivals!)
We only had 2 days in this city which seemed way too short but it was the perfect start to our time in Slovenia.
See what else we are up to on our Instagram.