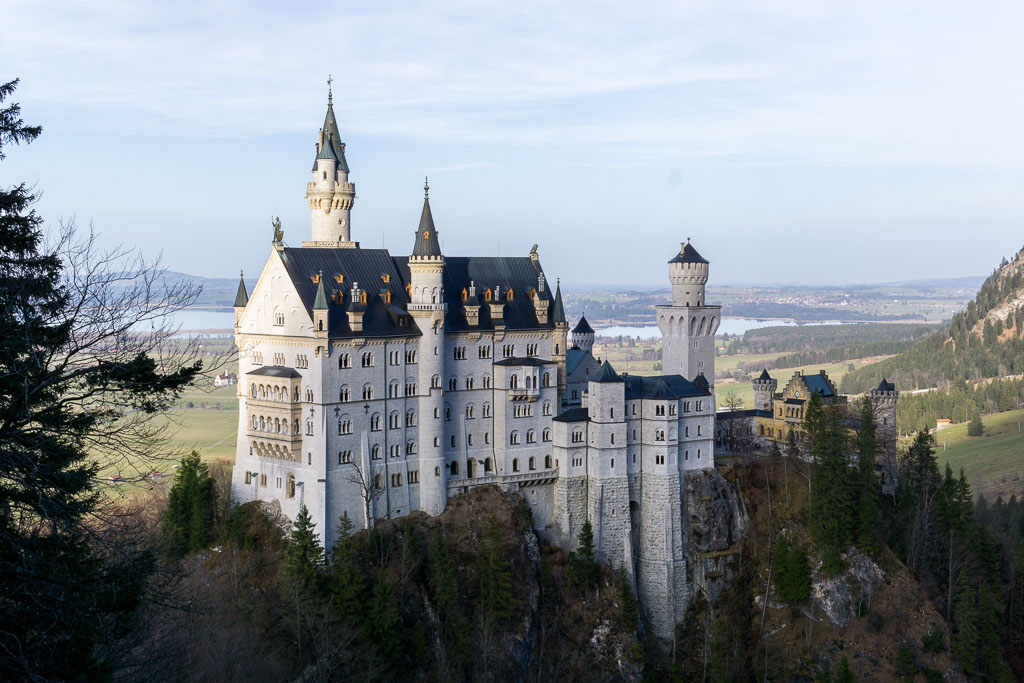 Neuschwanstein Castle seems to be right out of a fairytale.
We had a magical day doing a trip from Munich to see this castle that is so beautiful it inspired Walt Disney!
Neuschwanstein Castle was built by King Ludwig II in the 19th Century and had no defensive or strategic purposes but rather was built as the private palace for the King. So it is just gorgeous!
The actual area it was built in is also really beautiful. It is close to the town of Füssen, which is a really lovely German town. The castle is nestled in the magnificant Alps in Bavaria overlooking the Hohenschwangau valley. It is just absolutely beautiful landscape and I can easily see why King Ludwig II wanted to spend so much time here.
King Ludwig II was known as the 'Mad King' and he was definitely a dreamer! Neuschwanstein Castle became his escape and although he only spent 11 nights there, every part of it was designed exactly how he wanted it (though he did change his mind several times!)
Part of the most intriguing part of his story is how he died, the records are still sealed to this day and all that's said is he died "under mysterious circumstances." Both him and a therapist (who had declared him insane) were found dead after an evening walk. With many discrepancies between the evidence and reports of their deaths, it's no wonder King Ludwig's death has so many conspiracies! Have to say it adds to his story a bit as well and he did once say that 'I want to remain an eternal mystery to myself and others,' so I think he'd be pleased he still fascinates people today!
When you arrive in the town it's worth having a wander around as there is a lovely lake that King Ludwig II would swim across and back every day and you can also see his childhood home, Hohenschwangau Castle.
From here, you can begin the walk up to Neuschwanstein Castle. It's a lovely walk up a hill through the forest, so when you reach the top you have amazing views across the Bavarian countryside.
The castle is truly stunning. We didn't venture inside but instead headed up the hills surrounding it to get some beautiful photos from the very iconic view points! Was such a lovely way to spend the afternoon.
Visiting Neuschwanstein Castle was high on my list of things I wanted to see while in Germany and I have to say, it completely surpassed my expectations. I hadn't expected it to be in such an idyllic area or to be so beautiful. We loved our day in the mountains, learning about King Ludwig II's story and seeing such a magical place…it just seemed to be out of a fairytale.
Our adventures are on our Instagram if you want to see what we get up to each day!