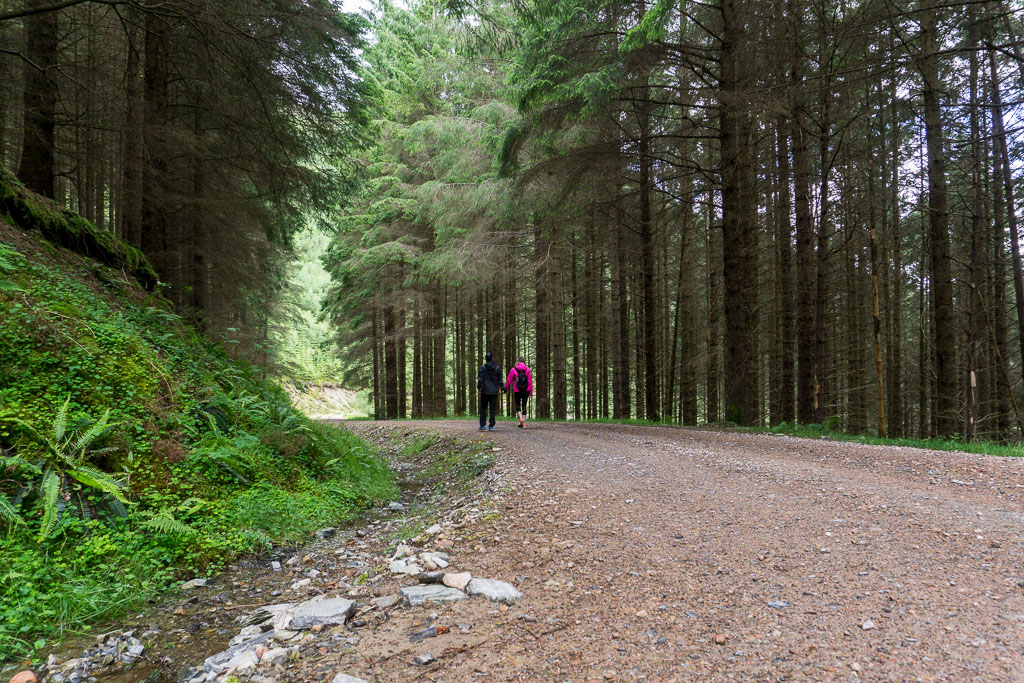 While many people come to the Fort William area to do the big walks – the West Highland Way, the Great Glen Way and climbing Ben Nevis are all favourites, there are also many other great walks that we have been doing in the area that are often overlooked. You can buy a map with information of these walks and more from the Glen Nevis Visitor Centre – where many of the walks start and end from.
Walks:
Dun Deardail – The Vitrified Fort
9.4km
We would highly recommend this walk in Glen Nevis – clearly signposted, very easy and nice walking and beautiful views!
The first bit of the walk takes you over a gorgeous stream and into an ancient graveyard. (Some confusing instructions in the map didn't make sense to us so we just doubled back and followed the first path we were on which was fine and got us to the right part!)
This walk is mainly along the West Highland Way and is a gravel forestry path that climbs steadily (but not too steepily) through Nevis Forest and gives gorgeous views over the Glen.
Towards the end you diverge from the West Highland Way path and climb up to where they believe an old fort used to be over 2000 years ago – so of course not much remains. However from what remains, they believe that it was deliberately destroyed with fire due to the vitrification of the rocks – whether this was due to a clan leader passing or victorious invaders we will probably never know, but it is clear to see why you would chose this area for a fort.
You can see for miles and look up towards Ben Nevis, or back towards Fort William. Was a truely stunning place to take in the view.
You follow the same path back down and either finish at the Glen Nevis Visitor Centre, or you can continue on to the Braveheart Carpark or link into the Cow Hill Circuit.
Cow Hill Circuit
7km
This was a lovely walk which gave incredible views over Glen Nevis and Fort William. You can start the walk from various points and it follows a path around the hill.
It was pretty steep to start off with but there are some gorgeous lookouts along the way looking out across Fort William and Loch Linnhe from one side and over Glen Nevis up to Ben Nevis on the other.
You can extend this walk up to the very top of the hill – which was well worth it for us, as we got to get really close with these guys!
The Hairy Coos are very cool, Scott likes to call them the Boy Band of the Cow World!
When we came down we stumbled across a gorgeous wooden path 'Outlandia' that meandered through the forest. Was a beautiful walk all on a wooden platform which was incredibly peaceful and ended with a little hut over looking Glen Nevis. We found out later this is an artist's retreat and I must say it would be an amazing place to work from!
This was an easy walk with great views and easily accessible from Fort William or the Glen Nevis Visitor Centre.
The Nevis River to Lower Falls
13.2km
This was an incredibly beautiful walk in Glen Nevis, along the River next to Ben Nevis.
This is a medium level walk – though fairly easy at the beginning, it's quite long in its entirety and if you end up like us, with lots of rain, it gets incredibly boggy! So prepare yourself for mud! Also be prepared, you need proper walking shoes for this one, our shoes got soaked and it's not much fun walking in drenched shoes and soggy socks!
There are fields on your left, with the prominent Ben Nevis towering in the background and the river running on your right makes it very peaceful.
While there are bridges at the start to get over the streams that come off the mountain, after the first stage of the walk there are no more of these! So if you are like us, without walking boots – you have to jump from rock to rock or if you are like me, when you get to Red Burn (the big river that comes down the Ben) you need to take your shoes and socks off and walk through the freezing water!
You walk past an ancient graveyard (really just an old wall) before making your way towards some cottages – this felt like an incredibly long part of the walk for us, however we were trudging through a bog in the rain so wasn't the most pleasant part of the walk!
Once you have passed these, it's only a short walk to the Lower Falls. An incredibly powerfall waterfall that has been formed from the river eroding the softer rock.
By this stage of our attempt at walking this, we were completely stuffed, covered in mud and over having wet shoes and soggy socks, so instead of continuing the path through the forest, we ended up walking along the main road back towards the Visitor Centre. Having later done part of the forest walk, it wouldn't have been too bad with mud, however walking along the main road was a bit of a shortcut for us to get home!
Overall, while we did enjoy parts of this walk, make sure you have proper shoes and remember the track turns very muddy after it rains!
We have loved exploring many of the walks around Fort William and especially in the Glen Nevis area. Follow us on Instagram or leave a comment below as we would love to hear from you!