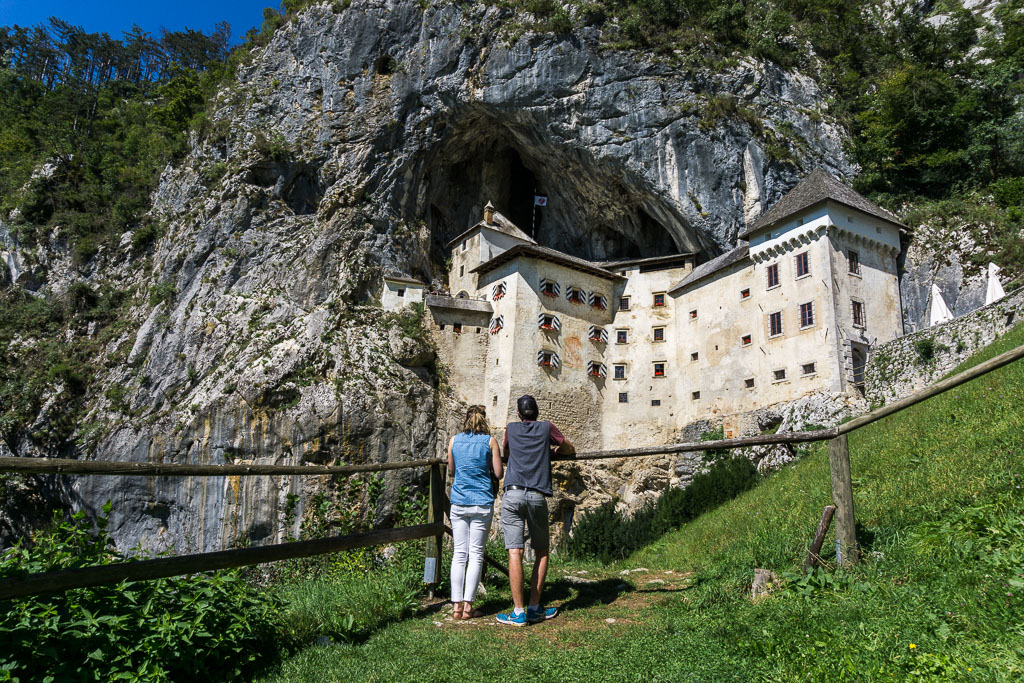 Slovenia is known as a country of caves and castle and some of these are pretty amazing.
We did a day trip from Ljubljana to visit some caves and a castle, these were amazing!
Predjama Castle
Predjama Castle is essentially a castle that has been built into the side of a mountain, or the 'Castle in the Rock' as the Slovenians kept telling us.
This is huge and just unbelievable to think how they possibly managed to build it into the mountain – you barely notice it until you are in front of it. We didn't go inside mainly because we were keen to get to the caves but also because most of the Slovenians we talked to said it was most impressive from the outside.
Škocjan Caves
We headed to the Škocjan Caves after this. These are UNESCO World Heritage listed caves and they are incredible! You have to view the main part of them through a guided tour which was very informative, but unfortunately for most of this tour, we were unable to take photos…Scott was not impressed!
These caves were enormous though – roughly about 2 kilometres of underground canyons that are about 150 metres high and in some places over 120 metres wide. They are huge!
They are divided into two sections, the first one we went through was called the Silent Cave (Tiha Jama) and was this enormous fossil passage that had so many dripstone formations, stalagites and stalactites in all sorts of colours and formations, they were incredible!
The second cave was even bigger and is an active cave, it has a river flowing through it. You actually cross a bridge that's suspended nearly 50m above the river.
We continued on doing a walk through some of the "smaller" caves (which were really still huge!) where we were able to take photos and ended up coming out by the river which runs through Italy, Slovenia and Croatia both above and underground, pretty cool!
PS the caves are freezing! About 12 degrees so bring a jumper if you ever go see them!
Have a look at our Instagram for more of our daily adventures!