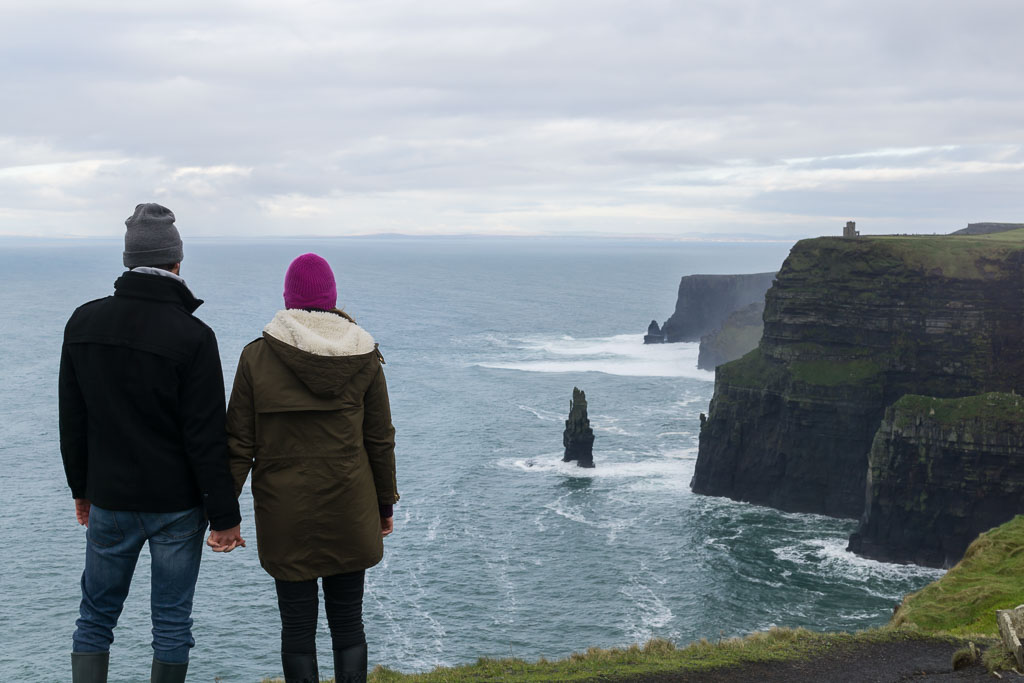 After our time in Dublin we rented a car and headed over to the West Coast of Ireland.
This is where my family originally came from so it was lots of fun exploring Kelly country in County Clare and surrounds. My family and I had visited here in 2000 so it was fun to go back again!
We based ourselves in Galway which is such a cute, university town. Bright shops line the main shopping street and we did a lovely walk along the coast which gave us some beautiful views across the ocean.
There had been an incredible amount of rain before we got there (which is saying something for Ireland!) so a lot of the area around Galway was flooded. We couldn't believe how much water there was in the river in Galway!
We spent a day out driving through Connemara. It was beautiful. Gorgeous loughs, huge mountains and some pretty spectacular beaches with cute little towns dotted in between. We loved driving through here, mainly following the West Atlantic Way which travels along the coast through the most gorgeous scenery. It was extremely cold and windy every time we got out of the car though!
We spent a day visiting beautiful Spanish Point as well as Millton Malbay. This was where I had stayed before and although there were lots of places with the Kelly name I didn't recognise much of it! Spanish Point is beautiful though and even though it was freezing, there were still surfers out! Crazy Irish people!
The Cliffs of Moher were an absolute highlight of our time! We went twice and the first day it was pretty typical Irish weather. After a frantic search around Galway for some gumboots we ventured back again the next day and were so lucky to be able to do a beautiful coastal walk because it was sunshine and beautiful, clear skies. It looked like a totally different place!
The coastal walk along the Cliffs is beautiful. You end up with some spectacular views back towards the iconic view and is well away from the tourist buses. We were both very thankful for our gumboots though! A few parts of the path we were trudging through mud or calf deep in water…but totally worth it! It was so peaceful and just a beautiful area of Ireland.
The Burren was another highlight. One spot along the coast road in particular was spectacular. The exposed terrain with a jagged cliffs and huge waves smashing in from the ocean were just unbelievable. It was so amazing to drive through and get out and explore. Some of the most incredible scenery we saw throughout Ireland, how there can be farms on it, I have no idea!!
We visited the portal tomb, Poulnabrone dolmen which dates back to the Neolithic period, estimated to be from between 4200 BC to 2900 BC. Incredible that it has lasted so long as it was so windy and wild when we were there!
We loved our week exploring a small area of the West Coast of Ireland. The friendly Irish people made us feel so welcome and it was so cool to return to this part of Ireland. Would definitely recommend hiring a car and exploring this area, particularly the drive along the West Atlantic Way and the Cliffs of Moher!
We are still putting photos up on our Instagram and coming soon is our Iceland blogs!