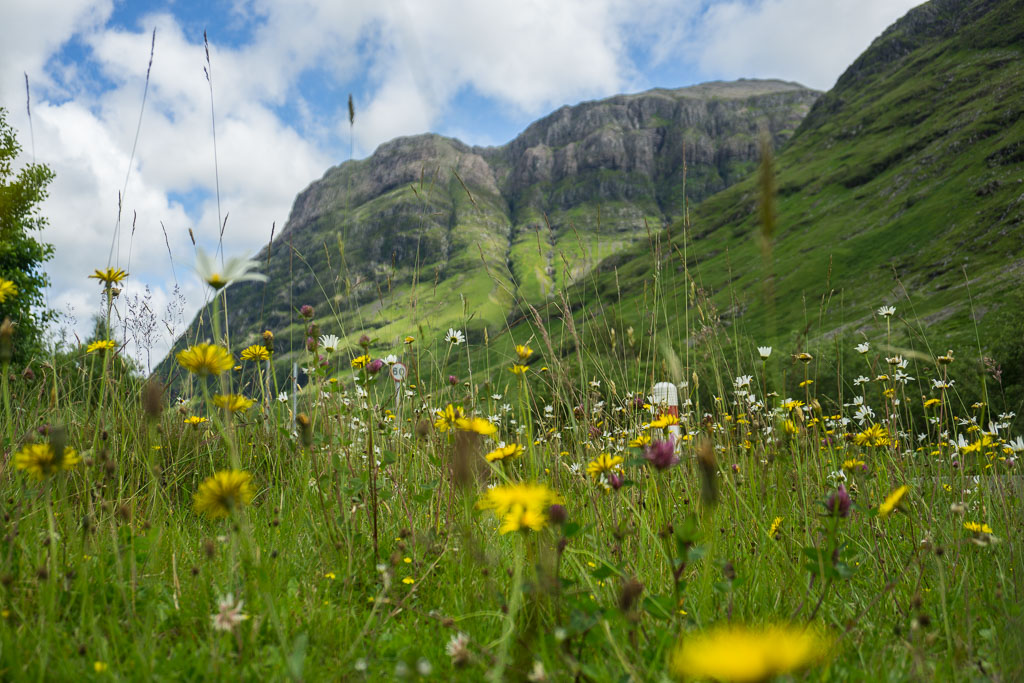 Glencoe is stunning.
It's about a 30 minute bus ride from our base at Fort William so we decided to have an adventure and go exploring!
The Visitor Centre has a beautiful look out that allows you a magnificant view of the Three Sisters, which are both stunning and fierce looking. The Legend of the Three Sisters is that there were once 5 sisters, 2 got married to 2 brothers who promised to bring back 3 more brothers for the remaining sisters. While they waited, the sisters wanted to be preserved in their beauty and were transformed into the incredible mountains.
We headed from the Visitor Centre to do a walk and a bit of exploring. This is not really the ideal place to start as it's located outside the village – where most of the walks are, but we managed to find some to do – there was just a bit of a walk along the busy road first!
We ended up in the area of An Torr where we combined three walks that took us up to a lookout, then meandering through a forest before heading back to the village of Glencoe. These were very easy walks that showcased the incredible beauty of the area!
It truely is an unbelievably gorgeous area. We stumbled across so many incredible views as we explored and would highly recommend as a place to see in Scotland.
There's also a very sad history as the Glencoe Massacre occurred here in 1691 and we visited the memorial dedicated to those murdered, on our walk into the village. The story goes that the Highland Clans were offered a pardon for their part in the Jacobite Uprising if they agreed to pledge allegiance to King William. Glencoe Chief's pledge was delayed however he was assured it would be accepted. 120 troops arrived in Glencoe and enjoyed 10 days of Highland hospitality before murdering 38 Glencoe men, women and children. Many more died of exposure when they escaped.
We have been very lucky to be able to explore a lot of the walks in the Fort William area (more on the other walks to come soon!) Our time exploring Glencoe certainly shows that this area around Fort William, has some of the most incredible, natural beauty that Scotland has to offer and with the availabilty and array of the walks, bike rides and road trips, it's clear to see why so many travel here!
As always follow us on our Instagram for more of our adventures and we would love to hear from you either in our comments or by sending us an email!