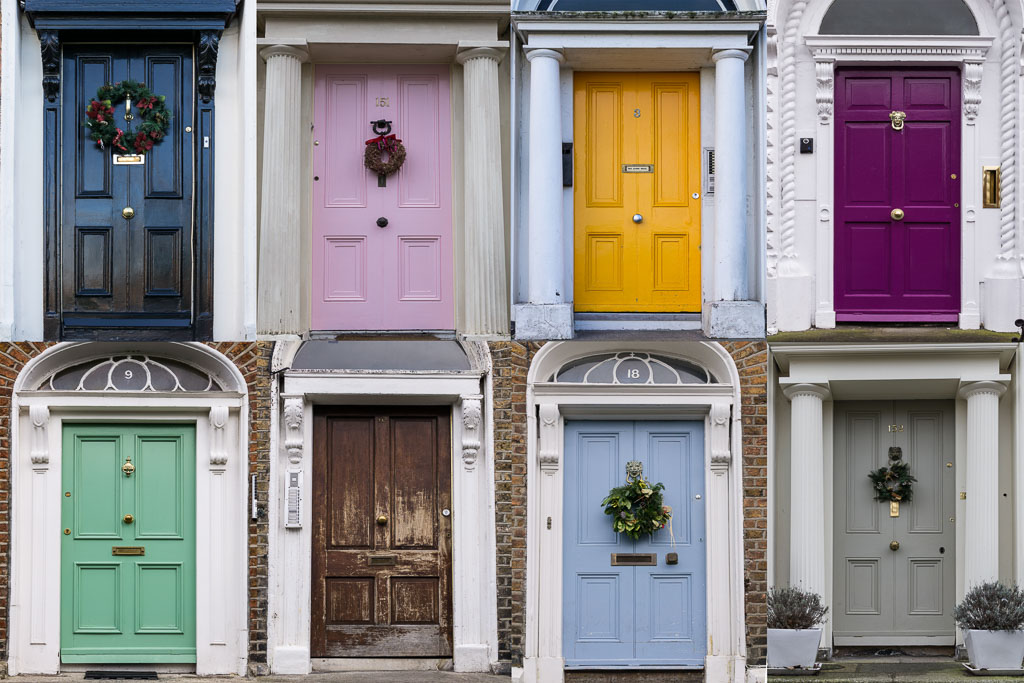 Dublin was such a friendly place to visit.
We had decided to spend a week there over the New Year's period and had so much fun!
Dublin is really lovely and we even had blue skies and not too much rain while we were there, which was an unexpected surprise!
Because of how nice the weather was, we were able to see a lot of Dublin on foot. (our favourite way of seeing cities!) We had a great time wandering through the city and came across so many of the different coloured doors! I absolutely love these and the story that goes with them makes them even better. The legend is that the doors were painted different colours to help the Irish men know which house was theirs when they cam home from the pub! They look so cool…I really want the pink or purple one…I'm not sure Scott agrees!
We spent some time wandering through Trinity College, this is Ireland's oldest university and it is beautiful. A lot of this was closed over the holidays so we unfortunately didn't get to see the Book of Kells. We did get to go into the Chester Beaty museum at Dublin's Castle which was fantastic. Full of all sorts of ancient books, texts and manuscripts of all different cultures and religions. It was just the most incredible collection and Chester Beaty seemed like such a fascinating man.
St Stephen's Green was nice to wander through, though it was a bit too cold to spend too much time in the park! The other areas we really loved meandering through was George's St and Temple Bar. These had not only a lot of pubs, but we also found some different shops, cafes and photography museums.
One of the guides we had taught us Molly Malone's song, which got stuck in our head every time we walked past her statue! In Dublin's fair city, where the girls are so pretty, I first set my eyes on sweet Molly Malone…it just gets stuck in your head so badly!!
Of course, being in Ireland we had to stop in at a pub for me to try a Guinness. Surprisingly, I didn't mind it! I only had a taster though…I wouldn't be able to finish a whole pint!!!
So sorry this post has been so long coming, we have had quite a lot to catch up on now we are back home, but we are determined to finish the blog so stay tuned!
Of course, we have more photos from our time in Dublin for New Year's up on Instagram.