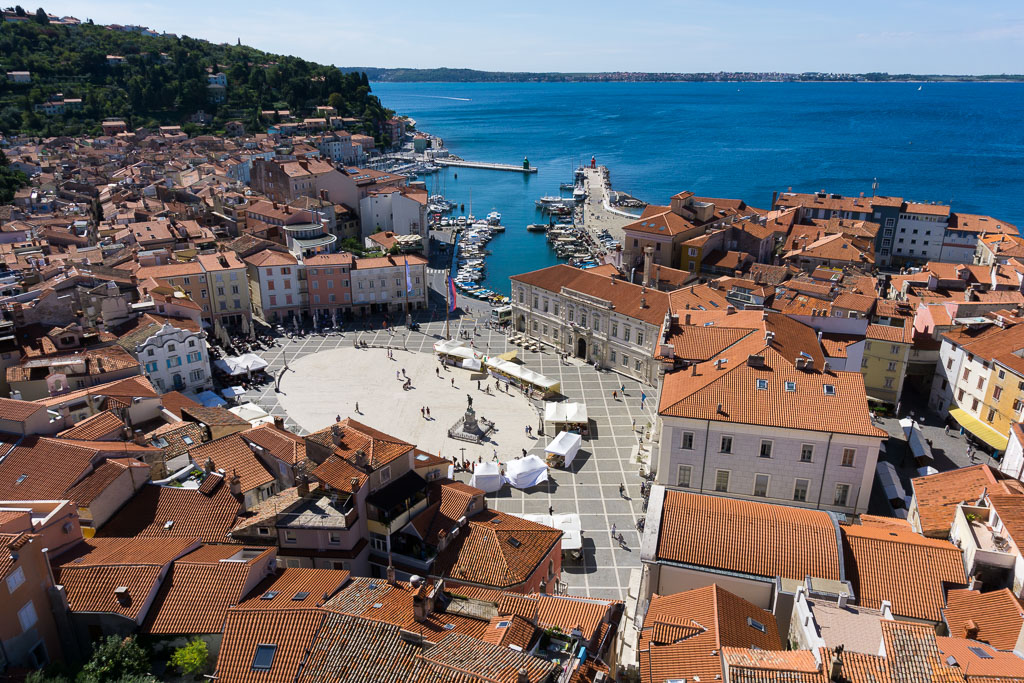 Piran is a little coastal town in Slovenia. The country only has 42km of coast line but this coastal town is absolutely gorgeous and the Slovenians are so proud of it. Everyone we talked to about Piran was so happy we were going to see it and we are so glad we went!
It is very much inspired by the Italian towns which aren't too far away. Meandering alleyways everywhere with the cute shuttered windows and clothes lines hung out across the streets (a quintessential part of the little Italian towns!)
Piran has the bluest ocean surrounding it and we had so much fun having a "beach day" while we were there!
Unfortunately no sand in sight, so instead they have massive concert slabs that lay out over the water…not the most comfortable to lie on but made getting into the water easier than trying to walk on rocks!
There was no easing your way into the water though, you just had to jump! The water was incredible though so unbelievably clear and so blue to look at.
We went up to the Old Walls which gave incredible views over the point of Piran, up to the vineyards on the hills and you could see all the alleyways and matching red top roofs that are iconic from this area.
We also went to visit the St George Church. Although it looks very plain from the outside, it was beautiful inside, the most amazing frescos and sculptures, including the Crucified from Piran.
You can also climb up the bell tower (so with Scott's love of heights, of course we had to go up!) It was a gorgeous view but the dodgiest staircase I think I have ever climbed…Scott didn't really help my nerves by saying that he couldn't work out how it was fixed to the walls!
Piran was the prefect place for us for a relaxing, beach break. The alleyways, shuttered windows, red tiled roofs, the amazing seafood and the incredible blue ocean made it a very difficult place to leave.
Our Instagram has more of our day to day adventures, we would love to hear from you!