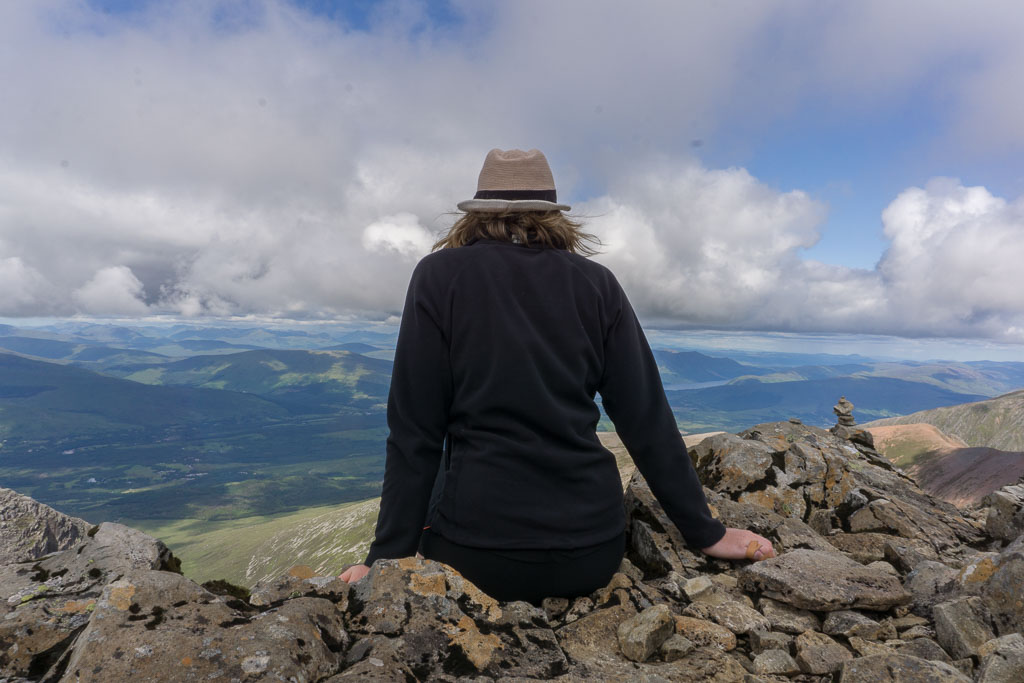 Climbing Ben Nevis was incredible.
It sits right on our doorstep here in Scotland and is the tallest mountain in the British Isles, 1344m above sea level, so of course we had to climb it!
We waited for a sunny day before climbing Ben Nevis, (thankfully only a week – got to love the Scottish weather!) and it was totally worth it as we got some spectacular views and could see for miles.
The start of the climb is fairly rocky and it zig zags up the front mountain before you reach a beautiful, massive lake, at almost halfway, where we stopped to enjoy our lunch. A smooth pathway between the ridges of the two mountains was a nice interlude to the harder part of climbing!
Red Burn is the halfway point and is a river that cascades down the mountain and flows through the valley of the two mountains. It is stunning and a place you can refill your water bottles as the water is so fresh, be warned though it is freezing! You have to cross this, which was a little challenging in our Nike runners, most people have waterproof hiking boots, but we managed.
The climb got harder, steeper and rockier from here but the views were incredible! There were lots of 'trick summits' where we thought we were at the top, but then got there and realised we still had ages to go. Was a very exciting moment though when we got to the first patch of snow – yes there was still lots of snow up there, even during 'summer.'
Getting to the top was pretty exciting! We had timed it perfectly as we had amazing views and there was a break in the clouds. There's an old observatory ruin on top that used to monitor meteorology for Scotland and parts of Europe, it's incredible to think that people used to climb up just to monitor the weather.
It only took us a bit over 3 hours to climb up, Scott was like a competitive mountain goat at the start so he set a cracking pace! and 2.5 hours to climb down – this was much more a meander down the mountain admiring the views!
Climbing Ben Nevis was spectacular, the views were breathtaking and made all the climbing and sore legs totally worth it. Another brilliant day in Scotland with thankfully some incredible weather!
Our Instagram will keep you up to date on our adventures! We would love to hear from you, so flick us an email or leave us a comment below.