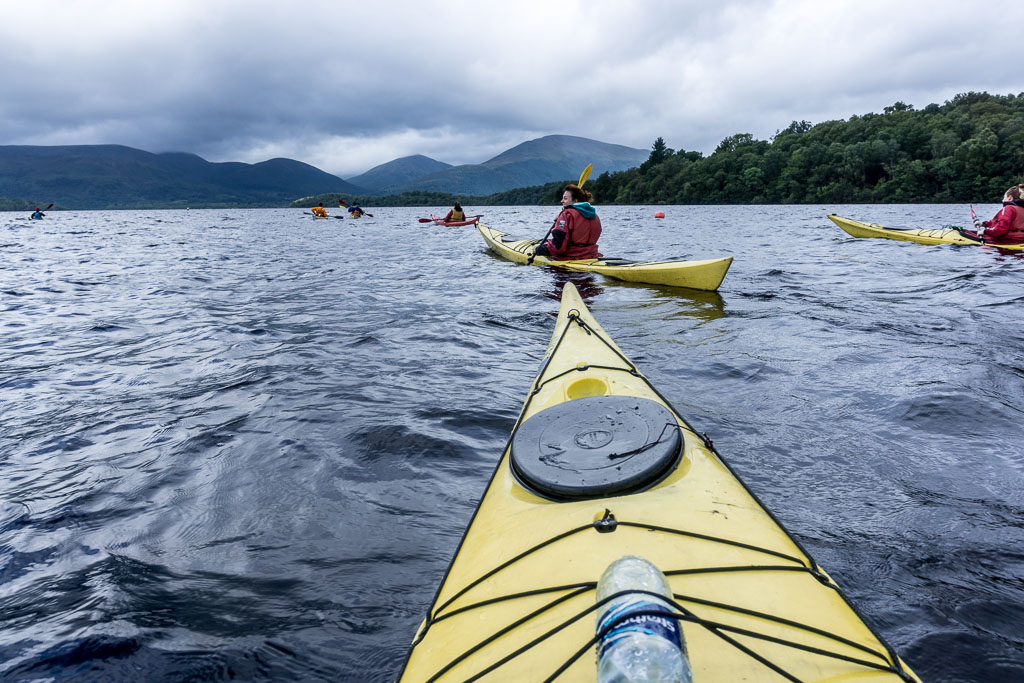 The West Highland Way is one of the most well-known walks of Scotland …. so we had decided very early on in planning our trip that we wanted to complete it, however we ended up doing it a little differently than the traditional way and it turned out to be a pretty awesome adventure.
Busabout offers the West Highland Way Adventure in partnership with Active Outdoor Pursuits and it is basically the path of the West Highland Way but along with walking, they throw in kayaking and mountain biking!
We were pretty excited, 6 days of hiking, kayaking, mountain biking and camping sounded like a pretty cool way to finish our adventure in Scotland and it was – we had the most amazing crew guiding us and an awesome group to experience it all with.
West Highland Way – Day 1
Day 1 was massive!
We were mountain biking and after seeing how often people fall off those things I was pretty worried about it. Combine that with my not-so-great track record on bikes and an already broken little finger I was pretty nervous!! Starting at the traditional start point at Milngavie we started our trip and what an adventure it turned out to be!!
The track was pretty busy with walkers, so me trying to work out how to ride a mountain bike, not crash into them and not fall off pretty much took all my concentration. However I did notice it was a gorgeous path to begin the journey and we had some pretty spectacular weather.
It wasn't too crazy for mountain biking either and our guide quickly came to my rescue giving me some tips on how to actually ride a mountain bike!
It was a fun morning getting used to the bikes and path and our halfway point was the Glengoyne Distillery. A quick try of the whiskey and a tour through their distillery was a nice break for the legs!
The afternoon quickly turned into a real adventure though.
We somehow lost our guide and a member of our group when they took a wrong turn – all worked out in the end when we met them in the next town but was a very confusing 30 minutes of trying to sort out where they disappeared to!
It was our guide's first time doing this section of the West Highland Way so after losing him, he was being quite careful to follow the map exactly, except that we weren't meant to! We all kind of worked this out, when we all had to get off our bikes to push and carry them up and down a massive hill, just as it started to rain.
Conic Hill has a pretty crazy, technical path that is definitely not the 'low-level' mountain biking we had been told about! Scott and a couple of the others did manage to ride part of it, but there was absolutely no way I was getting on my bike to go down that!!
A pretty massive detour, (the view was quite gorgeous from the top though) got us into camp about 1.5 hours later than expected, completely covered in mud and totally exhausted! The detour was forgiven over drinks and dinner that night, but not forgotten at all for the rest of the trip!
We all slept very well that night!!
West Highland Way – Day 2
The West Highland Way Day 2 was our first day of kayaking and was another pretty big day.
We were kayaking across Loch Lomond. It's the longest lake in Scotland and after a couple of hours kayaking on it, it definitely felt like it went on forever!! We knew it was going to be a big day of paddling but we hadn't realise that the day was over 30km long.
We started our morning off getting kitted out in our beautiful skirts, jackets and life vests, learning tips for the proper techniques of kayaking, and what to do if your kayak flips over!
Thankfully neither of us fell in and we quickly got the hang of kayaking. It was an absolutely brilliant way to see this part of the West Highland Way.
It was an incredibly peaceful way to travel that gave a totally different perspective to hiking, driving or riding and we both found we really enjoyed it.
We had a halfway point where we could get picked up if we wanted. Me and a couple of the other girls took advantage of this, paddling 16km for my first day on a kayak was more than enough for me! I was stuffed (and I have to say a big day previously of pushing my bike up and down a hill hadn't helped!!)
Scott continued on with the rest of the group for another 16km to finish the whole of Loch Lomond and up a river to get to our campground for the night. He was definitely ready for a beer when he came to meet me at the pub!
More on our adventure on the West Highland Way to come, and you can always follow our every day adventures on our Instagram, we would love to hear from you if you want to comment below.