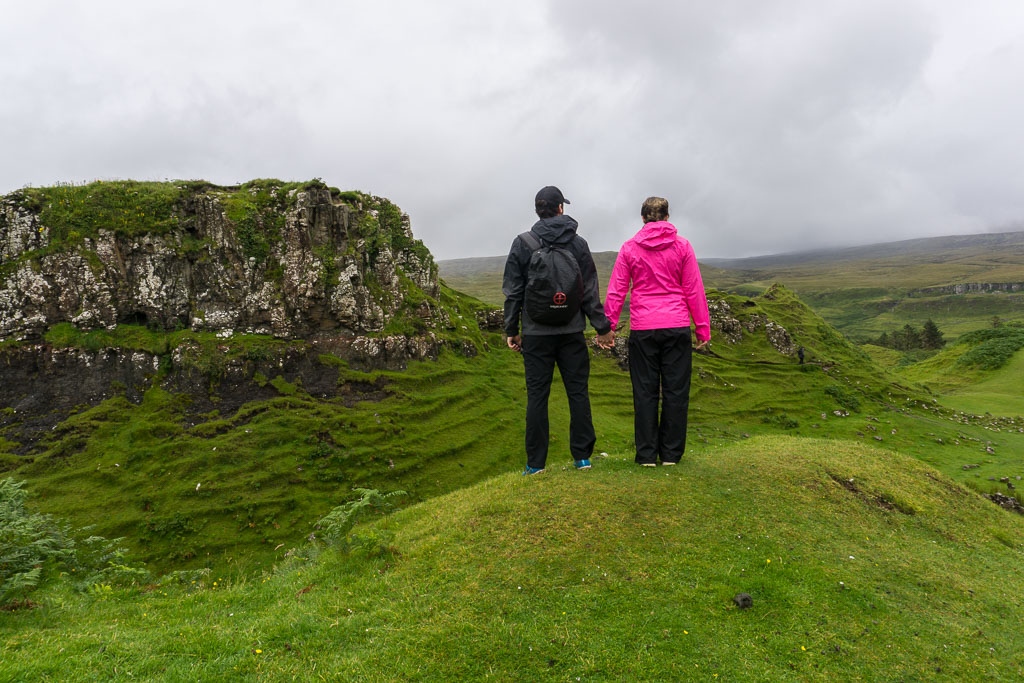 Isle of Skye was an unbelievably magical place, just so incredibly beautiful. It's full of stories of fairies and with how gorgeous, dramatic and diverse the landscape is, it's easy to believe in all sorts of magic here.
We only had a couple of days to see the island, so had hired a car in Fort William (which we would highly recommend to be able to really see Skye) and headed up past Spean Bridge to see the Commando's memorial and the absolutely stunning 5 Sisters to explore.
Right before the bridge that now permanently connects the Isle of Skye with the rest of Scotland is the gorgeous Eilean Donan Castle.
Eilean Donan truly looks like its out of a fairytale. It's a gorgeous castle perched out on the water and is surrounded by spectacular scenery.
Our first day in Skye we unfortunately didn't have the best weather and were not prepared for it. (I'm not sure what we were thinking though, we were in Scotland, so really should have known better!!) So we got completely drenched and were freezing by mid-morning and spent the rest of our first day driving through Skye, trying to keep dry and admiring the gorgeous landscape.
Thankfully on our second day, we woke up to the most amazing weather and the place seemed to have totally transformed. You could see for miles, the colours were completely different and we were able to really appreciate how picturesque the Isle of Skye is and all that is has to offer.
Sligachan
Sligachan is a place of myths and beauty.
While there are many fairy stories centred around this area, one of the main legends says that if you hold your face in the water for 7 seconds at Sligachan you will be eternally beautiful. Was a bit too cold for me though so I just gave myself a little sprinkling of it – hopefully that works too!
Fairy Pools
The Fairy Pools near Glenbrittle are just stunning.
They are a series of waterfalls through a valley that cascade into each other creating shimmering pools of the clearest water.
We had gone here on our first day when it was grey and stormy and the pools were beautiful then. But we decided to head back on our second day when there was a lot more light and the difference was incredible.
The water was so clear and had a real turquoise colour to it, which just made it seem like an even more magical place.
It was just stunning, like pictures out of a storybook and Scott had a lot of fun taking photos there – probably his favourite place in Skye.
Portree
Portree is the main town on the Isle of Skye, a bustling busy town especially when the tour buses come in. It has a gorgeous colourful harbour which is a great place to enjoy fish and chips and watch the seagulls!
Fairy Glen
The Fairy Glen was another amazing place towards the north of the Isle of Skye.
It was kind of everything Scotland has to offer in miniature. Cute hills with groove lines that make it look like a place where fairies would play and a gorgeous little loch that creates a mirror image of the area. The fairy rings scattered throughout add to its magical feel.
While incredibly beautiful, we didn't have the best luck here (must have been the fairies!) Our camera lens got smashed (oh no) so the rest of our photos for Skye were taken on my iPhone (so apologies for the crappy quality!)
Quairang
The Quairang mountain range was gorgeous to drive through – unfortunately it was way too windy for us to do the walk but it was a beautiful area in the north of Skye that was totally different to other parts. It's a lot more barren with very cool rocks that create some awesome formations.
Kilt Rock and Lealt Falls
This reminded us both so much of the Cliffs of Moher. A sharp cliff edge and waterfall that plummets into the ocean.
Neist Point Lighthouse
Neist Point Lighthouse is on the most Western point of the Isle of Skye and it was a bit of a drive to get to. We headed out there just before sunset on our last night and it was beautiful. (The aim had been to take sunset photos there but sadly no luck with that!)
The lighthouse is best admired from a distance teetering on the edge of a cliff but the rocky area was all pretty cool. It was the most brilliant blue in the ocean below, and we had fun watching gannet birds dive headfirst for their dinner.
Isle of Skye
The Isle of Skye was truly one of the most naturally beautiful places we have ever seen. It had the most brilliant colours, lots of purples, oranges, yellows and greens, and it is amazing how different the landscape can be in the different areas of such a small island. Some areas where so lush and filled with vegetation looking very much like the area we were based in Scotland. Where other areas were quite barren and reminded me more of home (though still a completely different colour to Alice Springs!)
The Isle of Skye was a huge highlight for our time in Scotland, it's quickly become one of my favourite places we have been to and was an amazing place to have adventures in.
As always we would love to hear from you either on our Instagram or by leaving us a comment below.