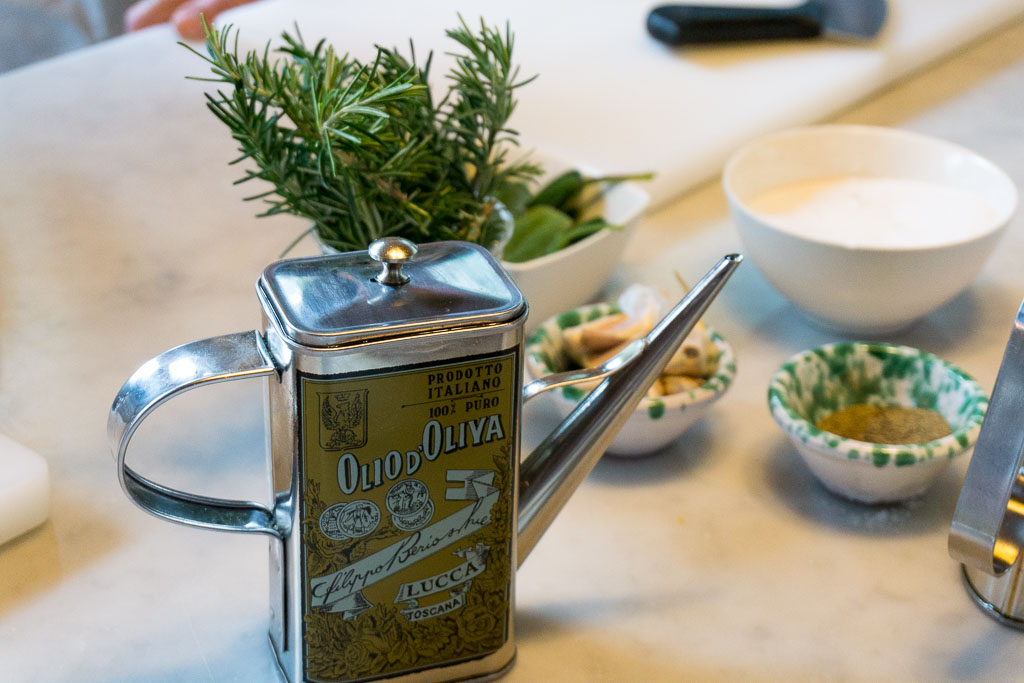 One of the best things about Italy is definitely the food and we decided we both should learn how to cook like Italians while we were there! So we booked in for a whole day of cooking and it was the absolute best fun.
We did our Italian cooking class during our time in Florence with the company Walkabout and they were fantastic. We opted for a whole day which seemed to fly by. It was really interesting to learn so much about Italian cooking and their culture and history of food.
We started with a tour of Florence with an emphasis on the development and history of its cuisine. As we walked around we also picked up some of the ingredients we needed for what we were cooking that day. Tomatoes and basil from the fruit and vegetable shop (that had bright green and purple cauliflower that neither of us had ever seen before!) and meat and cheese from the central market. This was a bit of an eye opener as they use every single piece of the meat and it's all out on display everywhere!
A quick coffee stop on the way, we were also educated about how to drink coffee in Italy. You never sit down to drink it, but rather have it at the bar so you don't have to pay extra for the use of the table, and you never have a cappuccino after 12pm, after that its only espressos or macchiatos!
After that it was time to cook! So we headed to a farmhouse that was near the Piazza Michelangelo. It was gorgeous, a beautiful garden complete with olive trees and absolutely stunning views over the city of Florence.
Our beautiful teacher Carmela, didn't speak much English but it didn't matter, you got the general gist of what she was saying and we had the lovely Elisa and Olivia translating everything she said for us as well. They were all a lot of fun and really made the day incredibly enjoyable.
We started with preparing the Ragu sauce (basically a Bolognese) and cutting the tomato and basil for the Bruschetta. We all got to take a turn using the cool curved knife which made it so much easier and lots more fun!
After getting everything sorted for the Ragu sauce, we got to enjoy our Bruschetta and even better, try some Chianti wine! Surprisingly, I really enjoyed the red wine which is unusual for me!
Next up, was making pasta from scratch. Not as difficult as we both expected but I still wouldn't want to be making it for too many people!
We then prepared a roast pork and roast potatoes and learnt that while the olive oil may be essential 'kink' of Italian cooking, they also use a lot of salt! An Italian pinch is more like a handful to us!
Following this, we went out to the pizza oven to learn how to make pizza like they do in Naples. We had Carmela's niece teaching us and it was a lot of fun. Scott was pretty much a pro at throwing our dough for us…we thought his co-ordination would be much better than mine!! It's crazy how hot and therefore, how quickly they cook the pizzas! It only needs 90 seconds in the wood fire oven!
After enjoying our pizza, (which traditionally they have with beer!) it was time to make our deserts! We made the Italian favourites, gelato and tiramisu!!
Having finished all the hard work preparing the food, it was now time to enjoy it all. It was all amazing and we sat in a fantastic dining room watching the sun set over Florence.
We went home incredibly full but had the best day learning how to cook like Italians! Carmela, Elisa and Olivia from Walkabout were absolutely fantastic and it was such a fun experience and who knows, maybe we might even cook some of it for you one day!!
As always, Instagram is the best way to see what we do each day and we would love to hear from you if you would like to leave us a comment!!