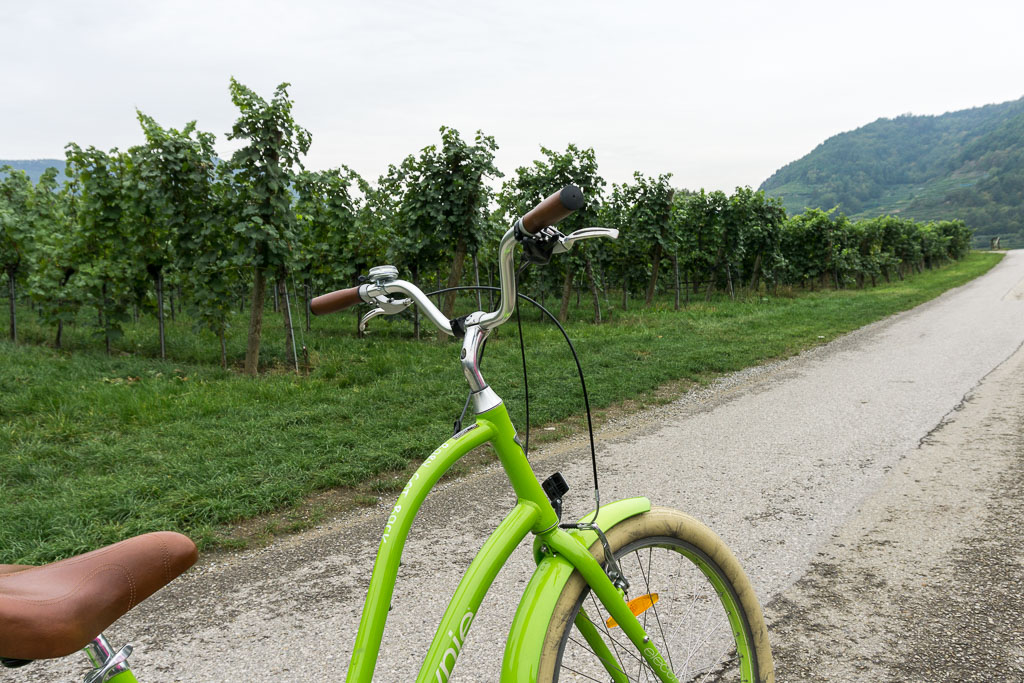 Our bike and wine tour through the Wachau Valley was so much fun!
The reason our time in Vienna was so short was because we had booked a whole day to go exploring the Danube river and what better way to enjoy it then with a bike and wine tour of the Wachau Valley!
We met our group in Vienna and took a train an hour or so to Krems, here we picked up our bikes and started the beautiful ride along the Danube.
It was such a lovely place to ride – the Danube river on one side and all the vineyards up steep hills on the other.
It wasn't a huge day of riding about 20 -25km in total and we basically rode through Dürnstein where Richard Lionheart was kept captive and onto Weissenkirchen before doubling back.
We stopped at three different wineries throughout the day and got to try all sorts of wines, and even enjoyed a traditional Austrian lunch at a local restaurant.
The wines of the Wachau Valley area are known for being quite simple and pure, they don't add any flavours to them and they are largely white wines (which I was super happy with!) They are divided into three categories depending on their alcohol levels and each category is named after things in the local area. These are:
Category 1 – Steinfeder (Stone feather) which is a local grass that grows in the area.
Category 2 – Feder Speil (Feather play) a reference to a traditional game the locals used to play with their hawks…essentially how we play fetch with our dogs.
Category 3 – Sma Ragd (Emerald) named after a local lizard that is green in colour.
See we paid attention while drinking the wine!
It was such a fun day, we loved exploring the Wachau Valley and doing a bike and wine tour was the perfect way to enjoy it.
We did this Bike and Wine Tour through Vienna Explorer who we would highly recommend!
Have a look at our Instagram for our daily adventures!