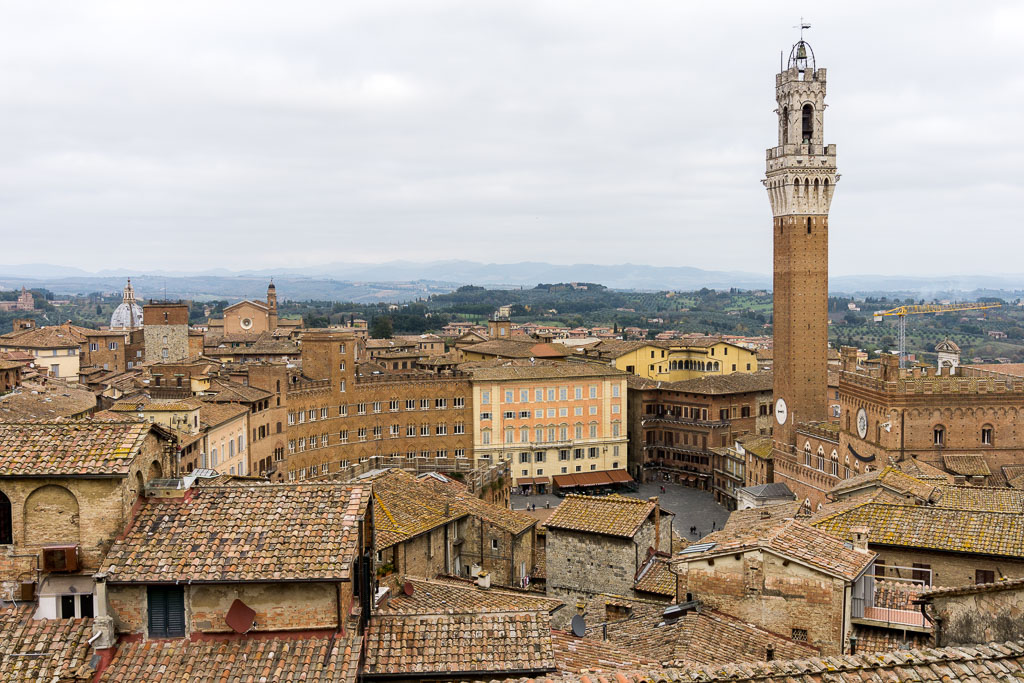 Siena was very quiet when we were there, which is understandable as it's low season! However we still had fun exploring this walled city of Italy.
The main square, Piazza del Campo is an incredible sloped medieval square that every year hosts the famous Palio horse race! I imagine it would be completely chaotic in the summer, and especially around the horse race, but for us, it was mainly watching kids chase pigeons! From this square, 11 streets lead out into the main streets of Siena.
We found the tower, Torre del Mangia that overlooks the square to be incredibly overpriced to just climb up and when we found out it was exactly the same height as the church's tower (to symbolise the church and state were equal,) we just headed there instead!
The Cathedral of Siena was definitely my favourite part of our time in Siena, and we would definitely recommend getting the ticket that lets you into the church, baptistery, crypt and library – much more value for money!
The Church is absolutely gorgeous and has beautiful pink, green and white marble decorating the outside. Inside its all black and white alternating stripes covering the walls and it was just a stunning church to be in.
The Liberia Piccolomini had beautiful frescos that are incredibly eye catching. They tell the story of Cardinal Enea Silvio Piccolomini who eventually became Pope Pius II, and is filled with gorgeous books and manuscripts.
The Baptistery was really interesting with beautiful pictures on the ceiling. I loved that mirrors are available so you don't have to strain your neck looking at it!
We got to climb up the Facciatone, which although wasn't as high as the tower still gave fantastic views across Siena.
The rest of our time spent in Siena was mainly wandering the streets and just enjoying the town. I imagine it would be a completely different place during the summer, but it was a nice, quiet stop during our time in Italy!
Our adventures go up daily on our Instagram and you can always leave us comments below!