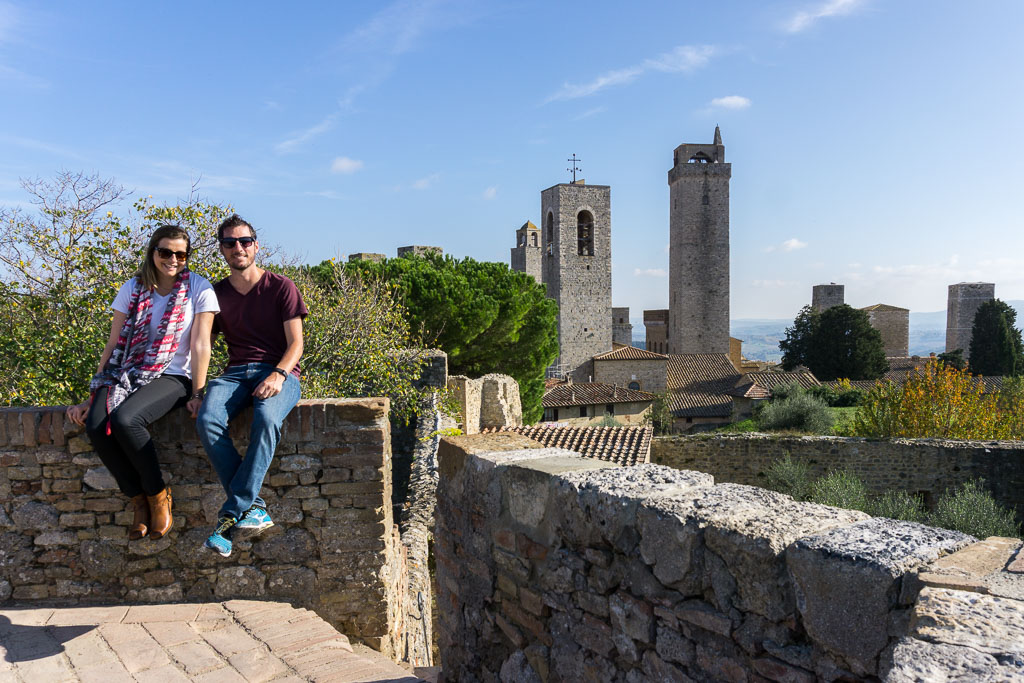 San Gimignano is a gorgeous town in Tuscany that we had a lovely day exploring.
We went to San Gimignano on a day trip from Siena and it was such a beautiful place to visit. It sits perched on a hill with fantastic views across the country side of Tuscany.
We didn't actually do much in San Gimignano other than wander the alleyways and admire the city, it was a great place to spend a day. It's very much like it had stood still in time.
San Gimignano is known for its many medieval towers, there were originally 72 of them, and although only 14 towers remain today, they create a beautiful skyline.
We wandered up one of the hills and ended up in La Rocca di Montestaffoli, which is the ruins of the 14th century fortress overlooking the town and surrounding area. This area was beautiful with gorgeous olive groves and fantastic views over the Tuscan hills. We sat here to enjoy our lunch and were lucky enough to  enjoy a harpist play some 'Fields of Gold' just for us! Pretty fantastic…kind of felt like we were in the middle of a movie really!
The Piazza della Cisterna is triangular in shape but the main square of the city and has beautiful medieval houses surrounding it. While we were here, the local market was on and we had fun wandering through that.
We really didn't do much in San Gimignano other than wander, but it was the perfect place for it. It is such a quintessential Italian town and has such fantastic views across the Tuscan countryside which is just beautiful. Would definitely recommend a visit if you get the chance!
We post daily adventures on our Instagram and as always would love to hear from you if want to leave us a comment below!