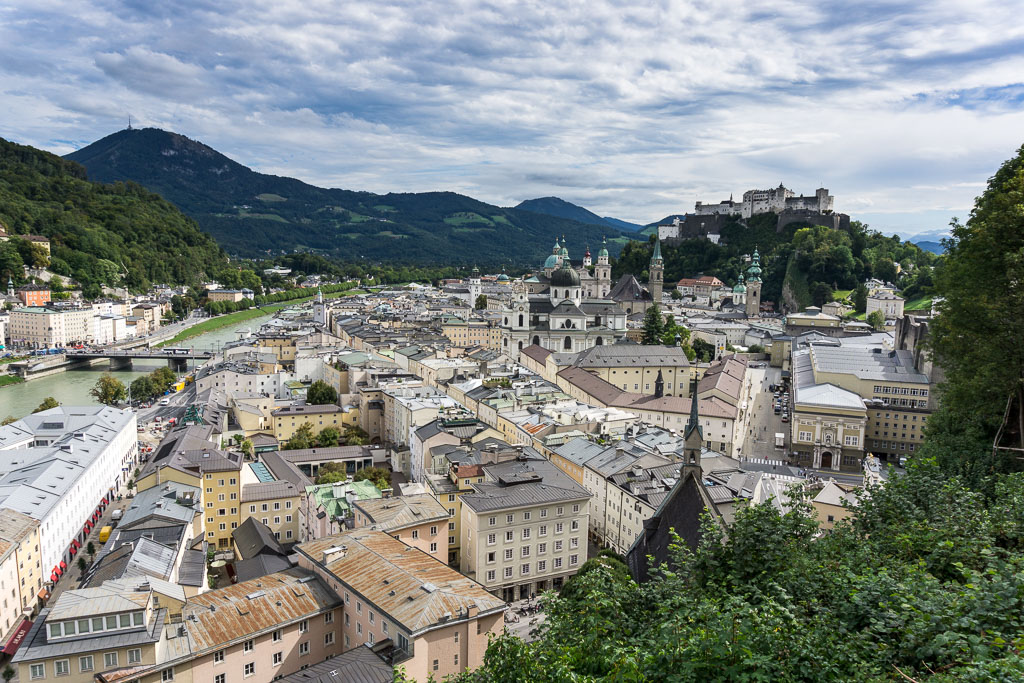 Salzburg was an enchanting place to visit.
Although it is known as the place for the Sound of Music and Mozart, we actually didn't look at anything to do with these but rather discovered other parts of the beautiful city of Salzburg.
We loved exploring here, there are so many gorgeous alleyways that are throughout the Old Town, filled with the very cute shops which all have these charming signs hanging over their entrances. This was probably one of my favourite parts of Salzburg!
We also went up to explore the fortress hill which overlooks the town. This was a lovely walk from the fortress across the ridge which gave amazing views across the city up to the mountains and we kept coming across all sorts of different look outs, cafes, castles and of course a brewery at the end!
The Mirabellplatz gardens are stunning with beautiful flower displays and all sorts of street entertainers. I think our favourite was the 10 people accordion band!
Salzburg Museum was fantastic. Unfortunately we didn't have time to look through it all as it was huge! We were lucky enough to catch the summer exhibition which was about pianos, so I was quite fascinated by it all. Different pieces of art work created out of pianos, piano pieces played in various ways, heaps of old different pianos which were so beautiful. Scott's favourite was a film of an old man performing blues songs on a piano in the middle of a field. He was pretty cool! We also had a wander through their exhibit of WWI which was fascinating to see their side of history. There was heaps more to see there but unfortunately we just ran out of time!
Another thing we really enjoyed was having a look through all the churches scattered throughout Salzburg. Our favourite was the Salzburg Cathedral filled with gorgeous art work with so much incredible detail.
We really enjoyed our time in Salzburg and can't wait to come back which will definitely be soon!
Our Instagram is filled with more of our day to day adventures if you want to keep up to date with where we are!