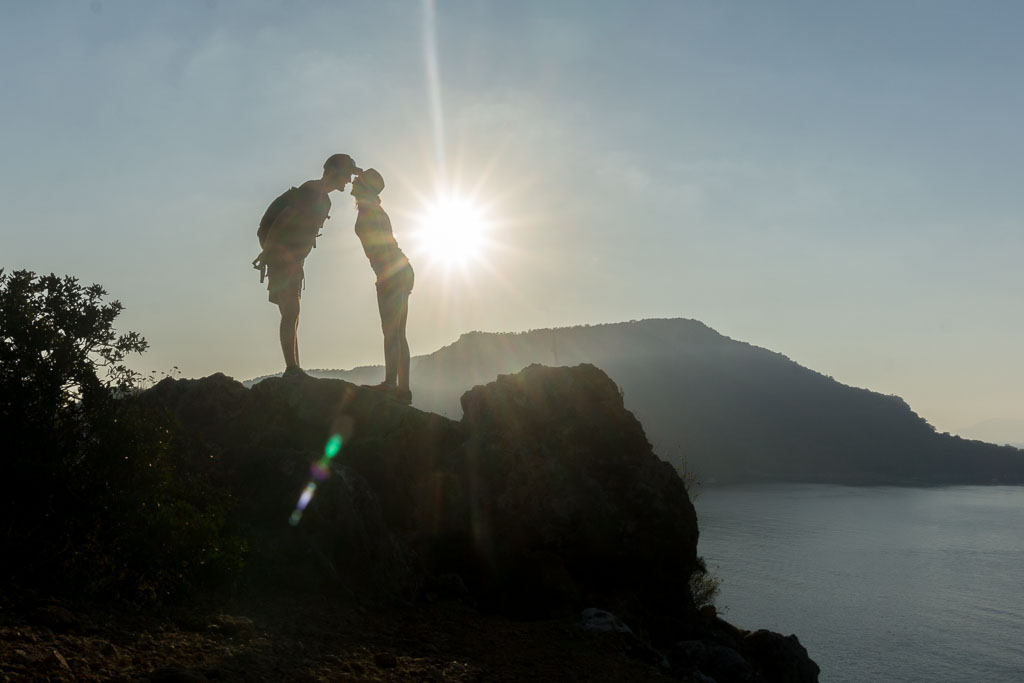 Sailing Turkey was incredible.
We had booked through Busabout a week of sailing turkey and had the best time relaxing, swimming and eating while exploring the south western coast of Turkey.
It was stunning, the water was incredibly clear, so warm and the most amazing shades of blue, and we got to see some incredible coast line while exploring some very cute little towns.
We sailed on a traditional Turkish gulet sailing boat. It was pretty cool with these huge masts and we had plenty of room on board. We were on the 'couples' boat and we all had our own room with an ensuite! Pretty fancy!
Scott and I barely used our room though preferring to sleep on the deck where we got to watch the stars as we were rocked to sleep by the sea and then were woken each morning to the most incredible sunrises. They were gorgeous.
Our food was included for the week, cooked by our Captain's wife and it was so good! Every morning we had a Turkish breakfast (not really for me but it was ok!) which included tomatoes, cucumber, eggs, olives, bread, cheese, jam and honey. Then we always had the best vegetarian lunches that were filled with fresh vegetables – my absolute favourite was the stuffed capsicum but the way they do rice here in Turkey tastes delicious! Finally dinner was usually more vegetable meals and salads with either chicken or fish. The fish was so good and cooked on the bbq at the front of the boat!
We were spoilt the whole week with the most amazing foods and ate way more than we needed to!!
Sailing Turkey – Day 1
We didn't get on the boat until later in the afternoon so had a bit of a chance to explore Fethiye.
I loved the shopping area of Fethiye, cool cafes and bars are everywhere and there are so many shops filled with spices, lanterns, rugs and other knick knacks. My favourite alleyway is covered with a rainbow of umbrellas!
Our Turkish Gulet, Kasapoglu 5
When we finally got to board the boat, we had a quick briefing before sailing to a nearby cove for the night. Here we got our first swim – jumping straight off the boat into the crystal clear water!
The rest of the evening was getting to know our fellow sailors, watching our first sunset and having a few drinks.
A pretty perfect start to our Sailing Turkey adventure!
Sailing Turkey – Day 2
We got to explore a place called Butterfly Valley today – home to over 100 different butterfly species and a waterfall, it sounded like it would be incredible.
Unfortunately not so much, mainly with it not being butterfly season and after some of the waterfalls we saw in Slovenia and Scotland, it wasn't that spectacular.
After that though we headed to Ölüdeniz or the Blue Lagoon and this was stunning. This is a renowned place for paragliders so the sky was filled with people everywhere gliding! Was pretty cool to watch them while we went for a swim! We also saw our first sea turtle here!
We headed from the beautiful Blue Lagoon to St Nicholas Island. We were greeted here by a very cute older lady selling pancakes off her boat!
St Nicholas Island is where they believe the real Santa Claus came from and it's a pretty cool island filled with old ruins but you can still see the resemblance of what they were. It was beautiful and we had a lot of fun exploring it.
Our Captain had timed it so we could enjoy a few drinks at the top of the hill on St Nicholas while watching the sunset.
We have heaps more photos from our Sailing Turkey adventures on our Instagram if you want to check it out.