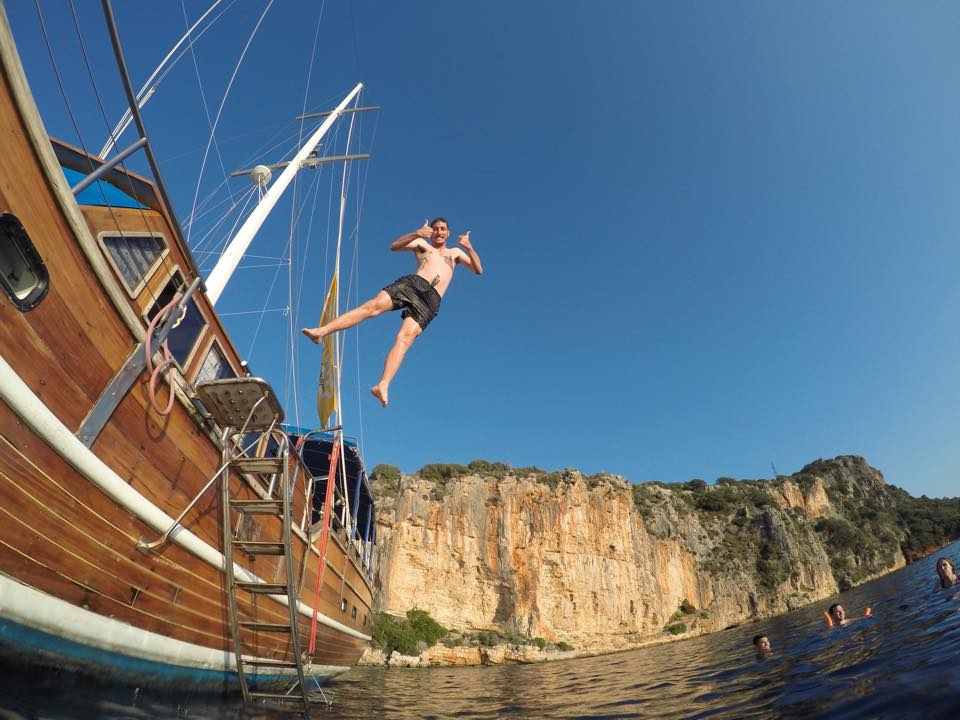 Turkey Sailing – Day 6
Today we got to explore Kalkan. I think this was my favourite town we visited while on our Sailing Turkey Adventure. It is just a very gorgeous town filled with the most gorgeous shops and cafes, all covered in colourful flowers. We headed to their market which was pretty cool and indulged in some Turkish delight and baklava – so good!!
We had a massive day of sailing in the afternoon but it was perfect to play some backgammon, relax and lie in the sun. (Before you all worry, I had like 50+ sunscreen on, kept reapplying and didn't get burnt at all for the whole trip, thank you!!)
We ended up staying the night at Tarzan Bay. A very cool cove that was covered in heaps of trees, very unusual from the rest of the coastline. We got in pretty late so didn't really get to enjoy it fully until the next day.
Turkey Sailing – Day 7
We woke up in Tarzan Bay and jumped straight in the water, mainly because there was a rope swing!!
I was the first girl to attempt it cause I do crazy stuff now like canyoning – thanks to Scott!! It was so much fun, but unfortunately my very dodgy finger didn't really hold up that well! It kept us entertained for hours, especially once the boys were able to get the bigger rope!!
One final swim spot before heading back to Fethiye for our final night on the boat. All the others, bar one, on our boat got matching anchor tattoos that afternoon in Fethiye – we figured it would cost us a week of travel over here, so no dodgy crew tattoos for us!
We headed to a party at the hostel connected with Busabout for our last night. There was a very entertaining bellydance display that thankfully we didn't have to participate in before our last night sleeping under the stars!
Turkey Sailing – Day 8
The end of our Sailing Turkey adventure was straight after breakfast.
We all went our separate ways with heaps of memories, photos and I even had a tan!!!
As always, Instagram has heaps more of our daily adventures and even more photos from our Sailing Turkey adventure.