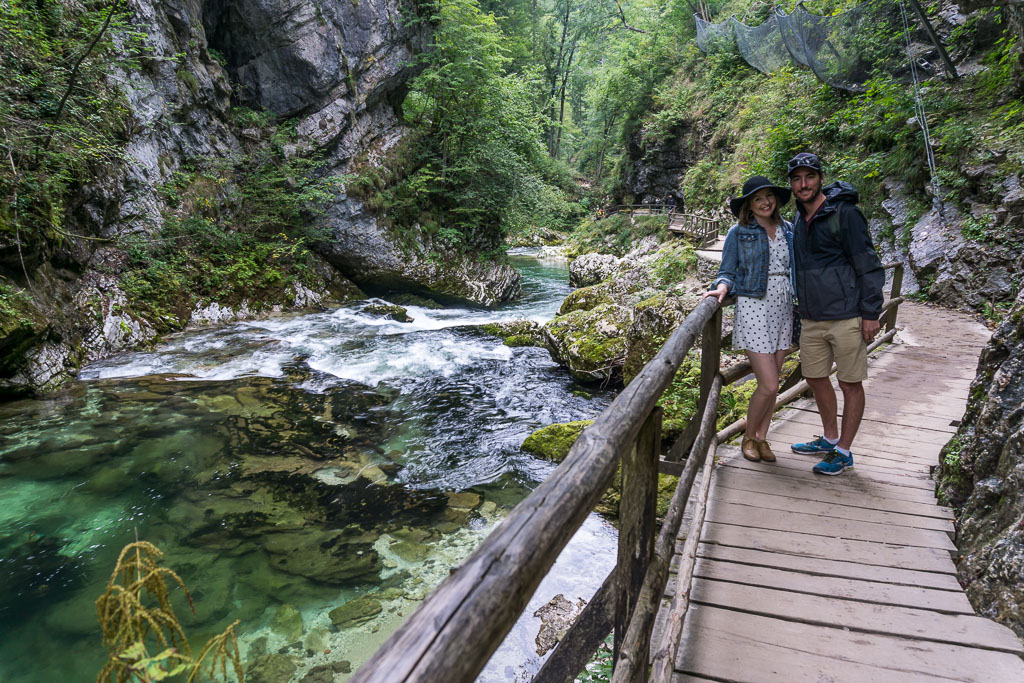 Triglav National Park in Slovenia is pretty spectacular. We only had time to explore a few parts of it but are both keen to see more.
The Triglav National Park is the only Slovenian national park and encompasses almost the whole area of the Julian Alps. Here's some of what we saw when we visited the Triglav National Park.
Vintgar Gorge
Vintgar gorge was so incredible. Winding through the incredibly steep mountain slopes is the most amazing emerald green water, it was so unbelievably clear and just beautiful.
There is a 1.6km wooden pathway which has been built through the gorge. It has bridges that crisscross over the river and provides amazing views of the waterfalls, rapids, and suddenly calm pools of water of the Radovna river.
It was a beautiful easy walk (although we did see a mountain rescue happening while we were there!) and it ends in a spectacular 16m high waterfall.
It's only 4km drive from Lake Bled (post to come soon!!) and it's pretty spectacular. We were really lucky as it was not very busy with tourists while we were there, but if you were visiting in July/August I would try get there early or late in the afternoon to avoid the crowds and get to really appreciate its serene beauty.
Lake Bohinji
Lake Bohinji is a gorgeous lake in the Triglav National Park and is the ideal spot for many adventure activities. Unfortunately we didn't get to do many of them as we only went for a day trip from Bled.
It is a gorgeous lake that is surrounded by beautiful, steep mountains which creates the coolest reflections in the water. It's the largest permanent lake in Slovenia and has the very cute St John the Baptist Church at one end.
It was the perfect spot for a day trip but you could easily spend a lot longer here exploring all that the area has to offer.
Savica Waterfall
Savica Waterfall is a favourite amongst the tourists to visit as it's easy to get to from Lake Bohinji. It's a 60m waterfall that splits into two at 25m and while it was a very pretty waterfall it wasn't one of our favourites, mainly because of all the tourists!
Vrata Valley
This valley was so beautiful to drive through to get to see some amazing places within the Triglav National Park. The two following were pretty special places to see!
Perićnik Waterfall
This waterfall was spectacular. We stayed with the most incredible host in Lake Bled who let us in on this little Slovenian secret, you can hike up and go behind this waterfall.
It was brilliant. There was no one else there and it was just a short hike up this little side path (thankfully short – I was in a summer dress so not really hiking attire!)
Then you get to walk behind it, as it's the most incredible curtain waterfall. This was pretty scary (at least for me!) as that water goes so fast and it's not the most secure path to climb behind a bucketing waterfall!
It was amazing and a pretty cool Slovenian secret to be let in on!
Aljazev dom V Vratih
This a lodge where a few of the hikes to climb Triglav (the highest mountain in Slovenia – 2864m) start from. It's beautiful and has the most amazing views up to the mountains. They say you are not a true Slovenian unless you have ventured up this mountain! It's usually a two day climb to get up and down Triglav so unfortunately we only got to look at it!
Triglav National Park
We absolutely loved exploring parts of Triglav National Park, it's such an incredible part of Slovenia and we can't wait to go back to see more!
Have a look at what we get up to each day on our Instagram and we would love to hear from you so leave us a comment below or send us an email.