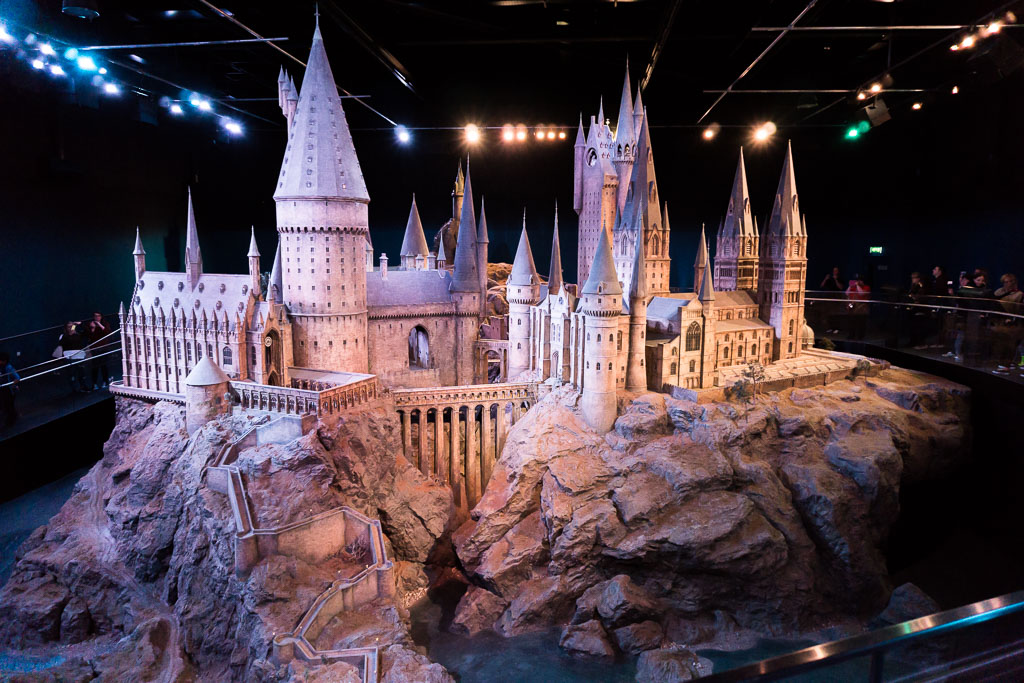 Now if you don't know, I am a massive Harry Potter fan (nerd, loser are just some of the words Scott uses for it!)
So I was pretty keen to visit the Warner Bros Studio Tour about Harry Potter while we were on this side of the world. We weren't able to visit last time we were in London so when we left Scotland after our West Highland Way Adventure, I made sure we weren't going to miss out again!
It had been a pretty stressful morning (public transport was a nightmare!) but once we got there it was awesome! I had so much fun, Scott kept teasing me that I was like a little kid on Christmas, which is pretty much how I felt!
There was just so much to see, amazing sets, props, costumes, special and visual effects, it was incredible.
The amount of detail, thought and effort put into every little thing used to make the movies and the development of these, as well as the special and visual effects throughout the making of all 8 Harry Potter movies, was pretty phenomenal.
Even the fact that they somehow managed to make 8 movies with kids who were very distracted, only able to work 4 hours a day and still having to do school work shows how much organisation and passion was put into the making of Harry Potter.
Some absolute highlights were:
The Great Hall
This was a pretty awesome set, one table was filled with fake food that looked good enough to eat.
There were costumes spread throughout the whole studio but this included Scott's favourite: Neville Longbottom's "Battle Cardigan."
It was especially cool to see details that were made but not necessarily included in any of the movies, such as the House Points Hourglass.
The Burrow
It was like real magic on this set! There were household items doing all sorts of things by themselves here, was very cool to see how much wasn't just a special effect added in after but was a mechanical prop that could do it by themselves…I was a pretty big fan of this set, especially the knitting needles and the Weasley Clock!
The Potions Classroom
Also had a bit of real magic happening here with cauldron's stirring themselves! There were jars of all sorts of creepy looking things that we found out are actually cuts of meat and bones from the butcher with feathers and things added in!
Butterbeer
Trying Butterbeer was pretty cool. You read about this drink throughout Harry Potter and it just sounds like the best thing!
It didn't taste exactly how I imagined it too, it was kind of a creamy soda taste (though not as sweet) with a caramel cream on top, it was pretty awesome to try it, even better to enjoy it while hanging out on the Knight Bus!
Dumbledore's Office
This was amazing, so much detail went into every piece of this set. Even more amazing was to find out it's actually 3 circular rooms that are connected, and one has a massive telescope with a seat!! Despite how many times I had watched Harry Potter, I hadn't ever taken that in before!
Diagon Alley
I have always loved the idea of Diagon Alley, and it was amazing to wander through this set feeling like I was shopping in Harry Potter World!
Everything from Gringotts Bank to the Weasley's Shop and Ollivander's Wandmakers was included.
Hogwarts
The full miniature scale of Hogwarts was incredibly impressive. This was used for shots over Hogwarts so it was incredible to be able to walk around and get an overview of the whole school.
Like I said, I'm a massive Harry Potter fan so this day was pretty much the best ever! But I do think almost anyone would enjoy parts of it. While it was mainly about Harry Potter, it did have a focus on overall aspects of film making. Things like the making of props, sets and costumes as well as the development and use of special and visual effects were talked about in detail.
Harry Potter tips:
In case any of you visit, here are a few of our tips!
You have to book your tickets online beforehand. Try and work out how long it will take you to get there as it was incredibly painful for us! Also if you can, book your time slot for earlier in the day – we took about 5 hours to get through the whole thing!!
Don't stress too much if you are running a little late (me 150%!) We arrived a little bit late for our time on our ticket but this was no real drama. The staff were lovely and said it was no issues to get in line once we were ready. A quick stop at the Starbucks helped calm me down!
Take your time in the Great Hall, this is the only part of the tour you are led through and if you hang back towards the end you can get some cool photos without everyone else in the way.
Make sure your camera is charged and you have heaps of space! We take a lot of photos everyday anyway but this was a new level!
There is another set of bathrooms through the courtyard in the second block that never had a line, all the others always did!
You can bring your own food in and enjoy it in the courtyard. We did this for lunch rather than having to get into a massive line and sit in a cafe, we got to sit next to the Hogwarts Bridge.
Get the digital guide. These provided more information and behind the scenes information and also included some of the videos that were shown on screens around the place which was good if you arrived at a set halfway through the video.
It was a pretty amazing day, have a look at what else we have been up to on our Instagram, we would love to hear from you if you want to leave us a comment below.