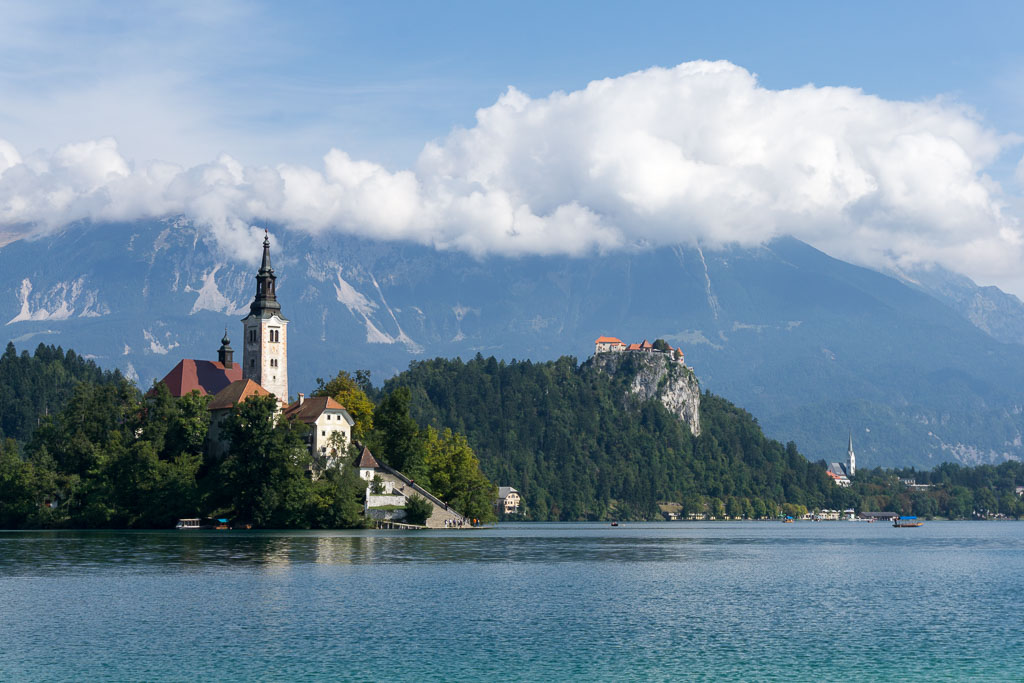 Lake Bled is like something out of a fairytale. It was a photo of Lake Bled that started my obsession with Slovenia!
Lake Bled is the most gorgeous blue green coloured lake and has mountains that surround it one either side. Atop one of these is a castle which overlooks the whole area but the main attraction is definitely the church sitting on an island in the middle of the lake. It is so beautiful.
You can walk all around the lake, which we loved as it gave you some different perspectives and got you very quickly away from the real touristy area. It's only a 6km walk and is absolutely lovely. You can also rent bikes or take the tourist train if you prefer, we just like to stop whenever we want for photos, and we took heaps!
We also went up to the castle which overlooks the whole area. We didn't want to go in but rather were looking for a good lookout. Not sure you were meant to go where we ended up, but we found the best viewpoint which gave us a very postcard view of the island surrounded by the lake!
Of course, the absolute highlight was the church out on the lake itself. I somehow convinced Scott that we should row out there (meaning he should row me out there!) so we rented a row boat and headed out to the island. It was so calm on the water and we had so much fun, having a 'Notebook' moment!
The Church of the Mother of God on the Lake is a very lovely church that still has such a reverence about it. There is a massive wishing bell in the middle of it though and the legend saw that if you ring the bell 3 times, Mary will grant your wish. Not sure about that but it was fun ringing the bell anyway – and it was way heavier than I expected!
We loved Lake Bled, it was just a magical place to see. There is quite a few tourists however they end up in one main area so it's very easy to get away from everyone and enjoy the lake and its beauty by yourself.
We highly recommend staying at Reka Hisa which is a little outside of Lake Bled but great if you have a car. We had the best time there, it's a gorgeous setting, you get spoilt with the most incredible meals and Clive has so many insights into Slovenia to share!
We are much better at keeping up to date on our Instagram so have a look there for what we get up to each day!