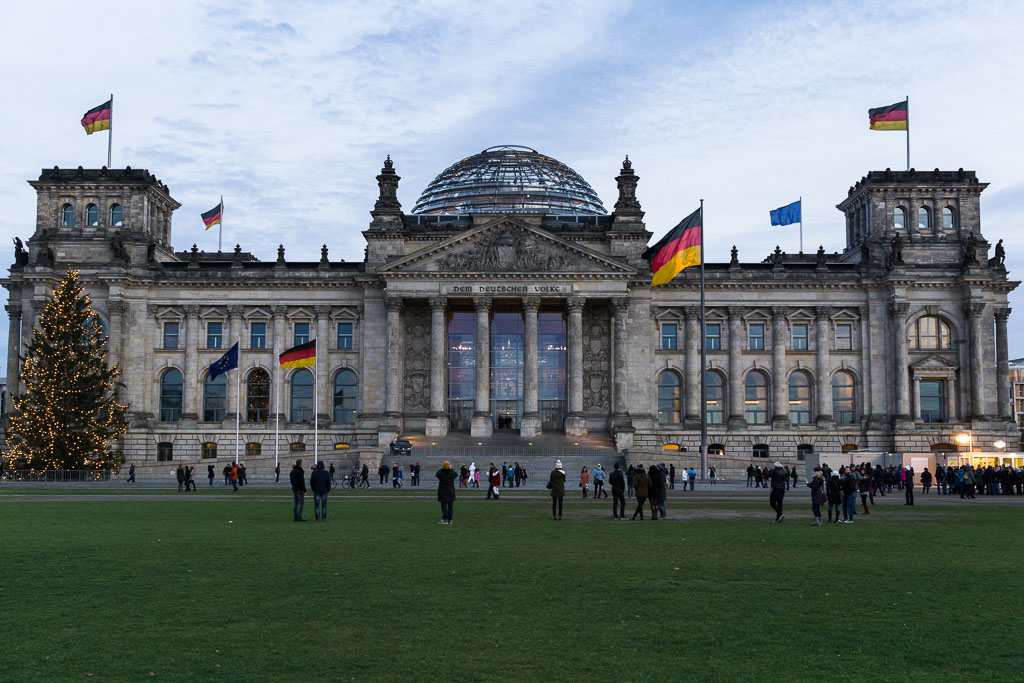 Berlin was such a fascinating place filled with so much to see and do we have split it into two posts, check out Part 1 here and also have a look at our post about the Berlin Christmas Markets.
The Berlin Wall
I have always struggled to get my head around how a city could possibly be divided into two and visiting Berlin actually raised more questions about it, I think! Because I had never considered things like they had to split the responsibility of the infrastructure, things like electricity, sewerage, even the metro! Bizarre! Even more so, considering the actual division went up overnight!
It's interesting walking around the city as you constantly come across a cobblestone marker that shows where the Berlin Wall used to run. Thought this was a great way to remember where a division once stood between capitalism and communism.
East Side Gallery
The East Side Gallery is a remaining stretch of the Berlin Wall that has been transformed into an open air gallery and has some iconic artworks painted on it. Unfortunately it still gets graffitied a lot so they were cleaning most of the sections of it while we were there.
118 artists from 21 different countries were commissioned to paint this section following the fall of the Berlin Wall in 1989. A couple of stand outs for us, were the artworks that depicted the hoards of people streaming through following the fall of the Berlin Wall and the memorials to those who attempted to escape.
Checkpoint Charlie
Although it's very much a tourist spot, this replication of the most famous border check point between East and West Berlin was still cool to see. Near there is a great exhibition that has a comprehensive timeline of the Cold War period to help get your head around when everything happened and also documents escape attempts both those that succeeded and those that failed.
Berlin Cathedral
The Berlin Cathedral is located near Museum Island and has a very striking, green dome. This whole area was a lovely place to wander especially as we had some great weather in Berlin.
Reichstag
The Reichstag is the parliament building of Germany, also near the Brandenburg Gate. It was where the Reichstag fire of 1933 occurred which resulted in Hitler receiving emergency powers that enabled him to persecute political opponents. It wasn't used by the Nazis but was extensively damaged in WWII.
It's since been restored and you can go right up into the glass dome. This was really cool, the whole idea is to symbolise democracy and transparent government and also be eco-friendly, so there's heaps of innovative architectural features. For example the middle is made up of so many mirrors that direct natural light into the chamber below. There are 30 rows of mirrors and each row has 12 mirrors on it, there is also a shade that deflects sunlight if necessary.
You are given an audio guide which walks you up and around the dome and points out landmarks and tells part of the history and features of the Reichstag Dome. It has incredible views across the city of Berlin and we really enjoyed our visit to the Reichstag. Also it's all free, you just need to book online and make sure you take your ID for the security check!
We ended up loving our time exploring Berlin. It was such a fascinating city with such a different atmosphere and the place seems to be constantly changing. It is a city filled with so much history but also there are so many new and exciting things beginning there. It'll be interesting to see how it continues to change over the next few decades.
As always, our Instagram has our daily adventures and you can see more about our time in Berlin here and our time at the Christmas markets here!