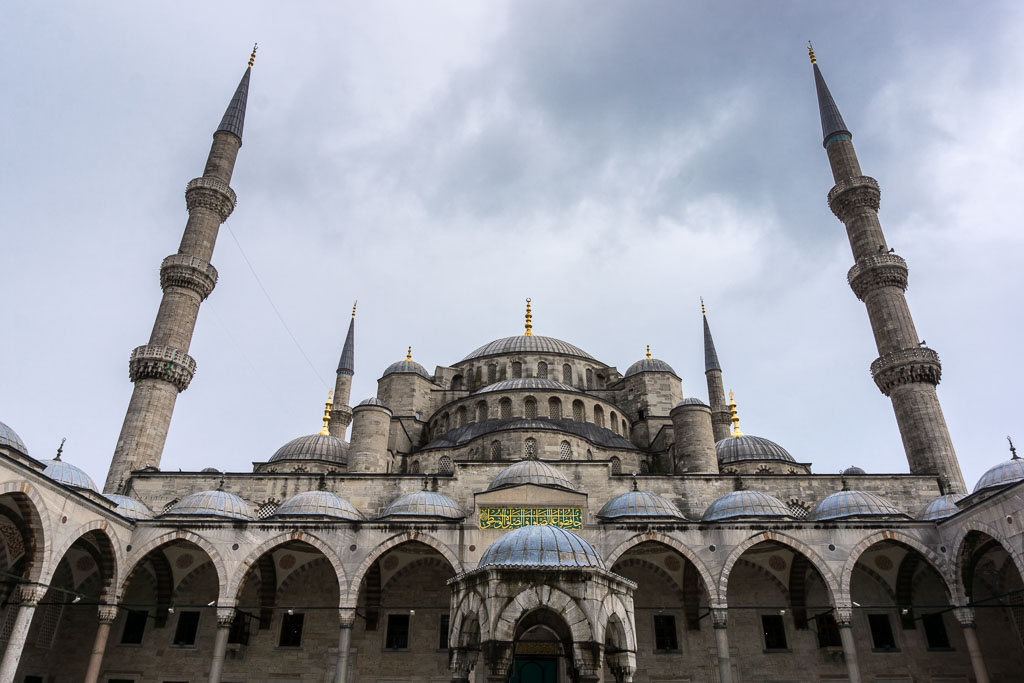 Istanbul was an amazing city to explore.
There was always so much happening, whether it was the call to prayer or the bustling of people, it felt like a very busy city.
We finished our Cappadocia Adventure tour with Busabout in Istanbul and it was a great place to finish our time in Turkey.
Hagia Sophia
Hagia Sophia is incredible. It has had the most amazing history pass through it, being at times a Christian Church, a Mosque and now a museum. It is huge, and a very cool part of it is that you can still see the various decorations left by the differing religions.
Underneath the plaster they have discovered beautiful Christian mosaics that weren't destroyed when it was converted to a mosque but rather just covered up. We also saw some Viking Graffiti, wasn't much to see really, but still pretty cool!
Blue Mosque
The Blue Mosque is stunning.
We were lucky to be able to go in straight after one of their prayer times so it wasn't too crowded at all. The mosaics and tiling are just incredible and the design of the whole area is phenomenal. There are more than 20,000 tiles on the interior and 200 stained glass windows which all just kind of blew me away a bit!
Remember though if you are going, everyone is expected to be respectfully covered, (no shorts or tshirts!) girls have to have their heads covered and you have to take your shoes off.
Basilica Cistern
The Basilica Cistern was an unexpected surprise in Istanbul. It had a mysterious ambience to it, full of columns of all different shapes and sizes, it used to be an underground water storage area. Now it makes for a very interesting place to explore and to photograph – was Scott's favourite part of Istanbul!
Grand Bazaar
The Grand Bazaar is huge! It has over 60 streets within it and about 5,000 shops! It was enormous and filled with anything you could possibly want to buy from Turkey!
Spice Market
The Spice Market was exactly how I imagined Istanbul to be. So colourful, noisy, crowded and so many different smells! I loved wandering here, enjoying it much more than the Grand Bazaar.
The stalls filled with piles of colourful spices and different teas and food were fascinating to explore. I couldn't get over all the differing smells that were here, the spices and teas give the whole area a very interesting aroma, though when we stumbled across a fish stall it wasn't so delightful!
Taskism Square and Galata Tower
Unfortunately we have no photos of this area as when we went exploring here it was pelting down with rain!! We all got drenched! But although there didn't seem to be much in the Square (which isn't actually square) the whole area leading towards the Galata Tower was very cool. Not as touristy and filled with all sorts of quirky, alternative shops and bars, would definitely recommend wandering through that area if you end up in Istanbul.
As always, we would love to hear from you in the comments below and our Instagram can help keep you up to date with all our daily adventures.