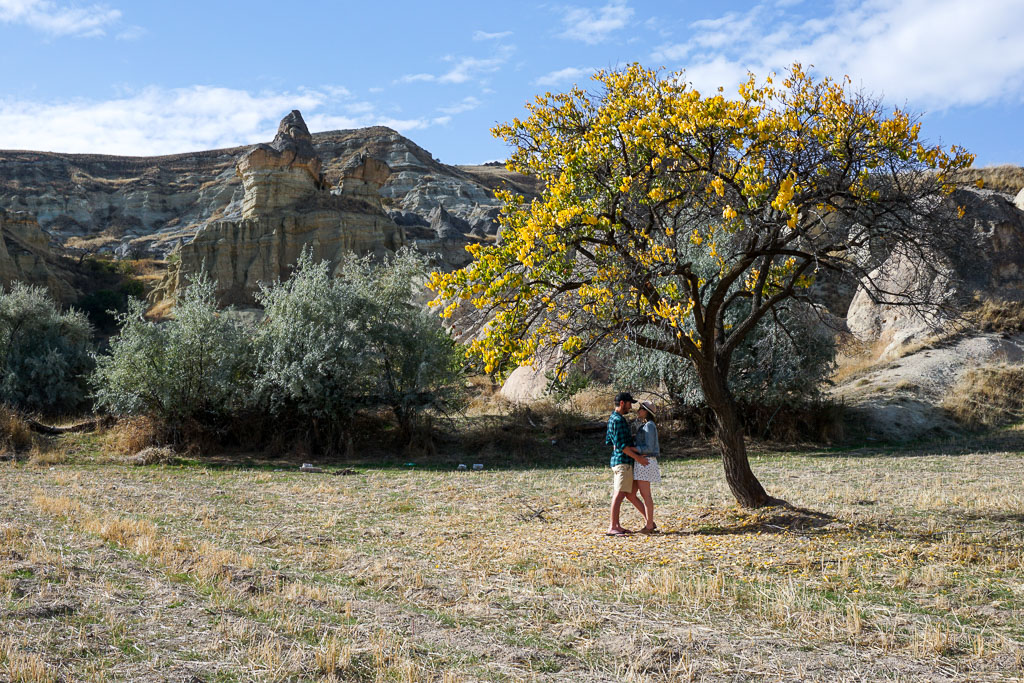 Cappadocia is incredible.
It was our favourite place in Turkey. After our time in Olympos this was next on our tour with Busabout and it just looks like something out of a whimsical fairytale. It has the perfect combination of both fascinating history and extraordinary nature.
Unusual rock formations, underground cities, fairy chimneys and caves carved into rock make this place so unusual to explore (Top it off with our hot air balloon ride and it felt like we were in a movie! A post on that to come!)
Cappadocia is actually the ancient name for this area, nowadays it's made up of many different towns and there is so much to see in the region.
Fairy Chimneys
The fairy chimneys are one of the most well known aspects of Cappadocia and can be seen throughout the area. They are sandstone formations which have volcanic rocks balanced on top, creating these unusual rock formations that were pretty cool to see everywhere.
Kaymakli Underground city
We went exploring in the underground city of Kaymakli. There are quite a few underground cities in the Cappadocia area as they were used for protection, both from the elements as it gets freezing cold and extremely hot here, but mainly to reduce the threat of enemies attacking them. By building their cities underground, they were less likely to be found and if they were found, they had a vast network of tunnels that they knew how to escape from, but the invading enemy did not.
They were pretty amazing. We were able to go 4 levels underground, at one point over 100m under ground level, through tiny tunnels that had been carved into the limestone. Little bit claustrophobic at times but incredible place to explore. Even more amazing is that there were another 4 levels underneath that!!
Zelve Open Air Museum
Throughout Cappadocia, there are many open air museums of ancient towns that have been carved into the sandstone. You get to wander through areas that are ancient churches, monasteries, cloisters and house that were carved into the rocks looking out over the incredible landscape. These were constructed between the 4th and 13th centuries AD and it is remarkable how they were able to create these towns in the first place, let alone have them surviving years later.
Pigeon Valley
Guvercinlik Vadisi was another awesome area of Cappadocia. Known as Pigeon Valley, this area was created to house pigeons as the locals had great success using their droppings as fertilizer!!
Here you can also find one of the many evil eye trees that are mainly created to attract tourists! And it worked, I loved this tree – so pretty!! The evil eye is everywhere throughout Turkey believed to ward off bad spirits and bring the wearer good luck!
Paşabağ Valley
Paşabağ Valley is another valley that is filled with heaps of fairy chimneys however these have the uncanny look of part of the male anatomy, which has resulted in an unfortunate nickname! Nevertheless, a cool place to visit!
Pottery
The region of Cappadocia is well-known for making exquisite pottery. We went to a museum and shop that has been making pottery in the Cappadocia region for generations. They were the most beautiful detailed pieces of art work and we were lucky enough to see them make a piece using the old cake wheel technique! Pretty cool.
Cappadocia was just the most incredible place. We absolutely loved exploring it. It felt so surreal to be in this amazing landscape that was like nothing we had ever seen and to be so full of history that has survived so many years was amazing.
As always, our Instagram will keep you up to date on our daily adventures and we would love to hear from you if you would like to leave us a comment below.